Classic Stage Company (New York, NY)
Pacific Overtures
Stephen Sondheim and John Weidman
April 6 to May 31, 2017
extended to June 18
Featuring George Takei, Ann Harada and other Asian American stage luminaries.
More info here!
---


Seattle Repertory Theatre (Seattle, WA)
Here Lies Love
Concept and Lyrics by David Byrne
Music by David Byrne and Fatboy Slim
Additional Music by Tom Gandey and J Pardo
Choreographed by Annie-B Parson
Directed by Alex Timbers
April 7, 2017 to May 28, 2017
extended to June 18
Here's where Byrne and Fatboy Slim come in. "Love" is a sort of Philippines-set "Evita," an immersive pop opera telling the story of the shoe-loving Imelda Marcos, wife of dictator Ferdinand Marcos. In the Public Theater production on Broadway, the audience helped move furniture and served as citizens and protesters amid techno beats. Alex Timbers will direct; this will be produced with American Conservatory Theatre.
---
Company One (Boston, MA)
Peerless
by Jiehae Park
April 27 to May 28, 2017
The play is a dark comedy about a pair of high school twins who are determined to get into their dream school at any cost. Steven Bogart will direct. And the show will be mounted at the Boston Public Library's Central Library.
---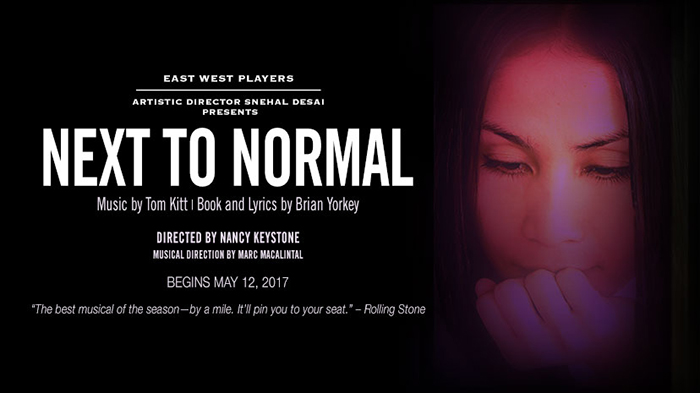 East West Players (Los Angeles, CA)
Next to Normal
music by Tom Kitt
book and lyrics to Brian Yorkey
May 11 to June 11, 2017
EWP is proud to announce that they will be presenting the Pulitzer and Tony Award winning musical Next to Normal with music by Tom Kitt (American Idiot) and book and lyrics by Brian Yorkey (If/Then)! Next to Normal will take place of the previously announced Gypsy, which will be moving to a future season.
---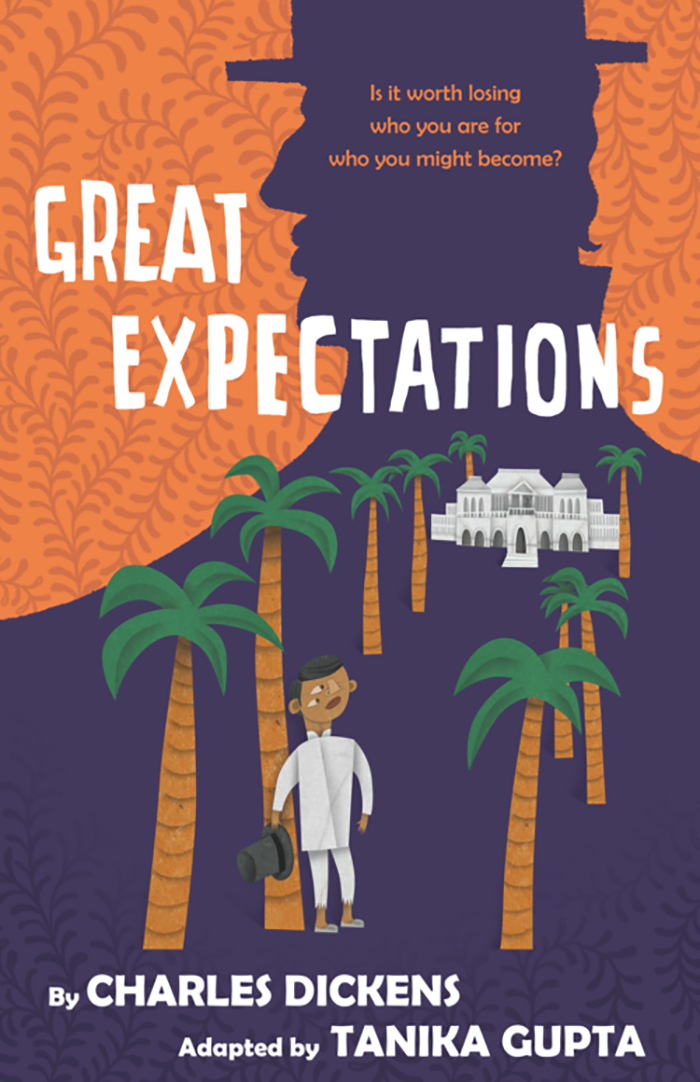 Silk Road Rising (Chicago, IL)
Great Expectations
Written By Charles Dickens
Adapted By Tanika Gupta
Co-Directed By Lavina Jadhwani & Nick Sandys
May 11 to July 2, 2017
Dickens' beloved tale of aspiration, intrigue, and romance is thrillingly transplanted to a colonized India by award-winning British Bengali playwright Tanika Gupta. When Indian orphan Pip receives a mysterious inheritance, he must choose between his humble rural life and the city life of an English "gentleman." In a vibrant clash of cultures, classes, and conscience, Gupta's brilliant adaptation expands Dickens' enduring question: Is it worth losing who you are for who you might become?
---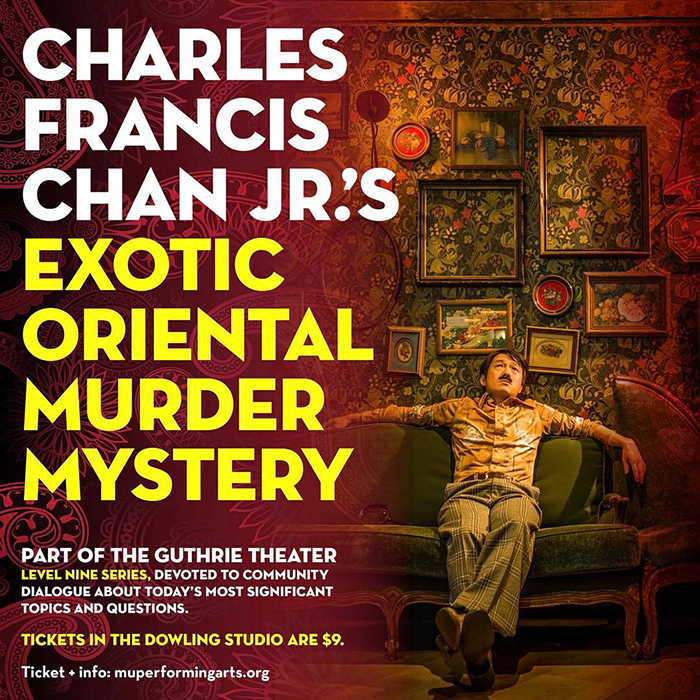 Mu Performing Arts (St. Paul, MN)
Charles Francis Chan Jr.'s Exotic Oriental Murder Mystery
by Lloyd Suh
May 12 to May 28, 2017
1967: a new political identity called Asian American emerges and a young literary hippie named Frank essays an inscrutable Chinese detective. A harmless sing-song orientalist minstrel show that ENDS IN A GROTESQUE CARNIVAL OF MURDER!!!
At once both comedic and political, Lloyd Suh's play within a play delves into the history and politics of yellowface with a keen eye, dark humor, and a sharp wit. The New York Times calls the show "a metatheatrical polemic about the way Asian-Americans have been characterized and caricatured in popular culture." Charles Francis Chan Jr.'s Exotic Oriental Murder Mystery was featured in the 2016 New Eyes Festival at The Playwrights Center, and we are pleased to add Lloyd's show to our 25th Anniversary Season.
Join us at Guthrie Theater's Dowling Studio as we stage this exciting work as part of the Level Nine Initiative!
---
USAAF 2017 @ Bindlestiff (San Francisco, CA)
May 12-13, 8:30pm
Sammay Dizon performs Silbihan
May 19-20, 7:30pm May 21, 2:30pm
Alleluia Panis' Dance Theater & KulArts
Incarcerated 6x9
May 25, 7pm
Re-Present Media presents
Personal Perspectives of Asian American Documentary Filmmakers
May 27, 8pm & 10pm
Irene Tu performs
Triple Minority
June 1-3, 8:30pm
Jason Bayani performs
Locus of Control
June 8, 8:00pm
The Twin Dane: a staged bardo
Bindlestiff Studio is proud to host six amazing, provocative, and illuminating shows as part of Asian Pacific Islander Cultural Center's 20th Annual United States of Asian America Festival: Threading Resilience.
FESTIVAL THEME | Subject(s) of the program(s) and/or event(s) will focus on themes related to Pacific Islander and Asian American themes and culture, connecting specifically to this year's theme of Threading Resilience:
- How has identity and visibility for APIs in art and politics evolved and where are themes of identity heading?
- What intersections and collaborations in art, identity, and politics have shaped, connected, and strengthened our communities amidst forces of oppression in mainstream culture and media?
- How have we utilized placemaking for our community throughout history and today? What will it take to ensure the collective survival of these spaces for future generations?
For full descriptions of the shows and to purchase tickets please visit the Festival Calendar.
---
Night of the Living Moms (Chicago, IL)
Nanay
by Lani Montreal
May 18 to 27, 2017
Playwright Lani Montreal is curating a festival of stories about motherhood titled "Night of the Living Moms," a pun on the zombie-horror movie "Night of the Living Dead." Included in the festival is Montreal's new play "Nanay" (Filipino word for "mother"), about a young Filipina coming to terms with her mother's secret identity as a manananggal (a supernatural creature, usually disguised as a woman, that sprouts wings and flies off from the waist up and can reconnect with its lower torso).
---
2econd Stage (New York, NY)
Somebody's Daughter
by Chisa Hutchinson
May 23 to June 18, 2017 (opens June 7)
Alex is a fifteen year old Asian-American girl going to extremes to get her own mother to notice her. She's a dream child-- except to her parents who wish she was a boy. Luckily she finds a sympathetic ear in Kate, her irreverent guidance counselor who knows all too well what it's like to walk in Alex's shoes. As three generations of women find their identity in question, each needs to decide who makes the rules and what happens when you break them.
The cast features Vanessa Kai, Collin Kelly-Sordelet, Michelle Herra Kim, Rodney Richardson, David Shih and Jeena Yi.
---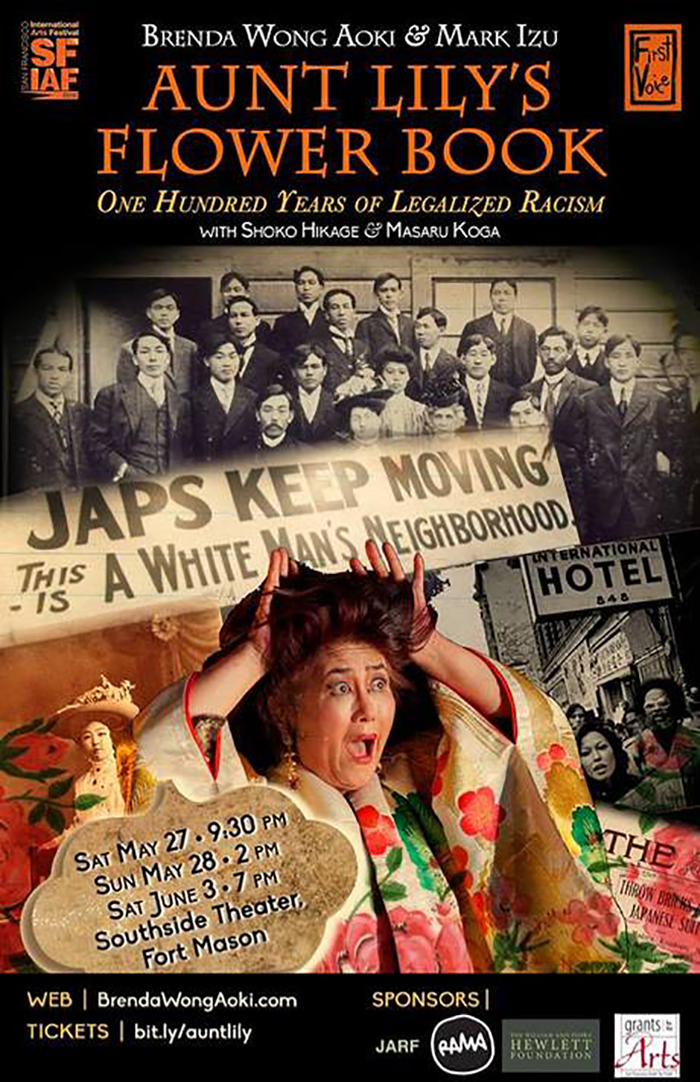 First Voices (San Francisco, CA)
Aunt Lily's Flowerbook:One Hundred Years of Legalized Racism
May 27 to June 3, 2017
True tales of resilience: A grandfather who built the railroad, a father in the 442nd - his wife incarcerated at Poston, aunts and uncles in Hiroshima, a gallon of ice cream, a violin and the birth of a movement.
Family stories & memoirs woven with archival photographs and historic film clips written & performed by Brenda Wong Aoki with live music by Emmy Award winning composer & contra-bassist Mark Izu featuring koto master Shoko Hikage.
Southside Theater, Fort Mason, San Franciso, CA
---
Pasadena Playhouse (Pasadena, CA)
East West Players
Hold These Truths
by Jeanne Sakata
May 30 to June 25, 2017
---
Based on the investigative reporting of CIR's Shoshana Walter, "Journey to Emeraldville" takes us deep into Humboldt County's secretive marijuana industry, where whispers of sexual abuse and trafficking haunt a culture established by free-spirited back-to-the-landers.
Follow the "trimmigrant" labor force, young women who trim marijuana into buds, as they pursue their dreams – Terri, an environmentalist and musician; Carmen, undocumented and hoping to make enough to pay for her mother's medical bills; Monique, a Eureka teen, and other women who find themselves caught in the $2.7 billion industry's web of big business, greed and exploitation. As California legalizes pot, what will become of the women who toil in these fields of green?
This special reading will be followed by a Q&A session with the writer, director and reporter, as well as a short reception.
---
Magic Theatre (San Francisco, CA)
Grandeur
by Han Ong
May 31 to June 25, 2017
Grandeur imagines a meeting between an ambitious young journalist and the shape-shifting music legend, Gil Scott-Heron. Questions of legacy, art, hope, and redemption drive this funny and gut-wrenching exchange.
---
Kumu Kahua Theatre (Honolulu, HI)
Uncle's Regularly Scheduled Garage Party is CANCELLED Tonight!
World Premiere by Lee Cataluna
Directed by Harry Wong III
June 1 to July 2, 2017
Neighborhood Montage Comedy
Uncle's regularly scheduled garage party is cancelled for the first time in -- ever! The usual attendees show up and process their shock over the cancellation-- while they eat, drink, talk story and play music. The old friends spend the evening telling stories, laughing and sharing food. But it's not a party, because Uncle's regularly scheduled garage party is CANCELLED!
---
fu-GEN (Toronto, Canada)
POTLUCK XIV I
June 2, 2017
at the Theatre Centre BMO Incubator
8:00PM to experience these essential new works by the Kitchen Creators' Unit:

please don't tell my Dad by Vivian Or
Rosedale by Ran Zhu
Banana Girlz by Nathalie Younglai
Apple by Cynthia Hicks
Buy+Hold by Milton Lim

The evening is pay-what-you-want and the performances will be followed by a delicious Potluck Dinner, provided by the artists. Seating is limited and on a first-come-first-serve basis, with no reservations.
You won't want to miss what these creators have cooked up.
---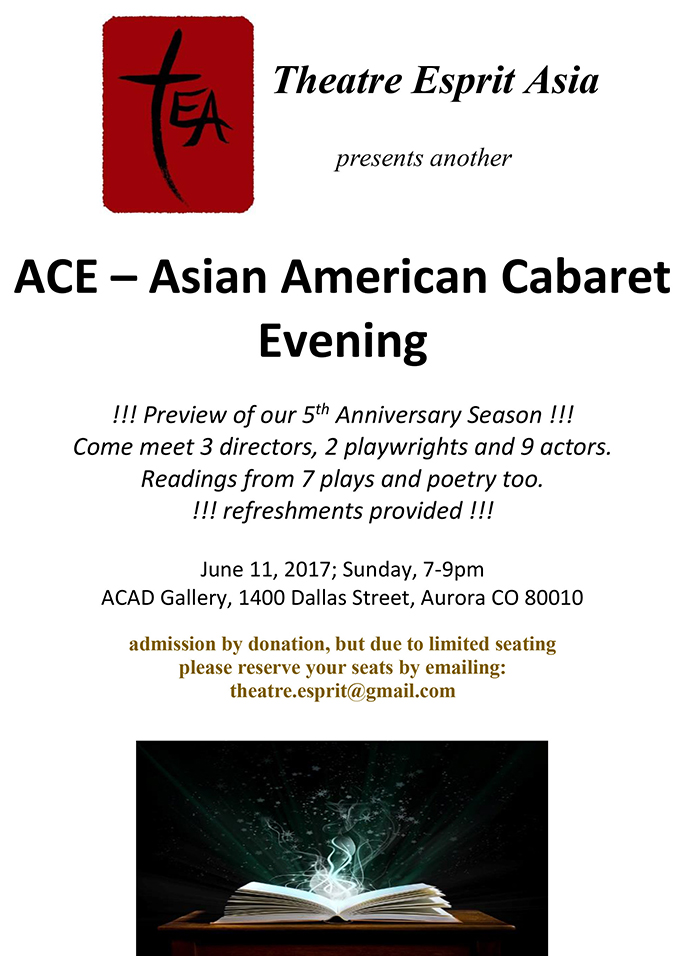 ---
The Public (New York, NY)
Endlings
by Celine Song
June 13, 2017
On the island of Man-Jae in Korea, three elderly women spend their dying days diving into the ocean to harvest seafood with nothing but a rusty knife. They are "haenyeos"— "sea women" —and there are no heiresses to their millennium-old tradition. ENDLINGS is a real estate lesson from the last three remaining "haenyeos" in the world: don't live on an island. Unless it's the island of Manhattan…
---
Shotgun Players (Berkeley, CA)
Brownsville song (b-side for tray)
by Kimber Lee
June 15 through July 9, 2017
---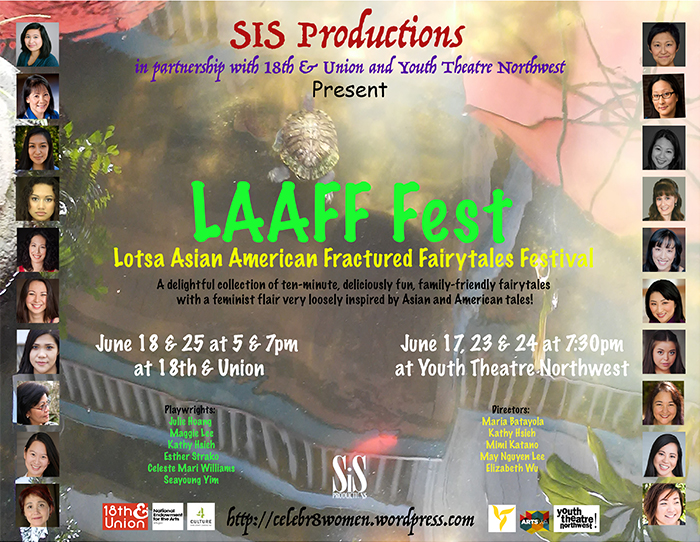 SIS Productions (Seattle, WA)
Lots Asian American Fractured Fairytales Festival
June 17 to 25, 2017
LAAFF Fest: Lotsa Asian American Fractured Fairytales Festival
SIS Productions in partnership with 18th & Union and Youth Theatre Northwest present the premiere of Lotsa Asian American Fractured Fairytales! LAAFF Fest brings to life a delightful collection of deliciously fun, family-friendly fairytales with a feminist flair! Very loosely inspired by Asian and American tales, these six ten-minute scripts are penned by Asian American women and one teenage American girl, directed by Asian American women and featuring almost 20 Asian American actors!
Two locations!
18th & Union at 1406 18th Ave at 18th & Union in Seattle's Capitol Hill/Central Area
Sundays, June 18 and 25, 2017 at 5pm and 7pm
Online tickets available soon!
Youth Theatre Northwest in residence at Mercer Island's Emmanuel Episcopal Church located at 4400 86th Ave SE, Mercer Island, WA 98040
Saturdays, June 17 & 24 at 7:30pm plus Friday, June 23 at 7:30pm
Online tickets available soon!
Running Time: 70 minutes with no intermission
Appropriate for anyone 6 years and older.
Like our Facebook page for more insights on the show and the artists involved! Follow us on Twitter @SeattleSIS!
Haenyeo
by Seayoung Yim directed by Mimi Katano Minji, a city girl who moves to beautiful Jeju Island, looks for the answers to her struggling family's problems in the pages of an old fairy tale. She meets Haenyeo, a real life mermaid, who shows her the answer to her problems may actually be found in her real life.

Featuring Naho Shioya
Another Monkey Tale
by Celeste Mari Williams
directed by Elizabeth Wu
Kimie's downtime at her favorite hangout is dramatically interrupted when a talking monkey invites her into his world of problems. Who is this monkey? Can he be trusted or is he an evil trickster out for his own personal gain? Kimie finds herself in an odd folktale world full of ancient wisdom, secrets, curses, and lessons to be learned.
We're With Her
written & directed by Kathy Hsieh
Sometimes it's grandmothers who know best. Cindy gets a surprise visit (or two!) that turns bedtime story-time into more than her mother ever would have imagined.
Featuring Rachel Guyer-Mafune, Mariko Kita, Maydene Pang.
The Monsoon Girls
by Julie Hoang
directed by May Nguyen Lee
What happens if you can't let go of a grudge? Two powerful goddesses in Vietnam go head-to-head in a stormy showdown.
Featuring Annelih Hamilton, Mi Kang, Anna Saephan and Patty Sang.
Not All Fairytales Have Happy Endings
by Esther Strako
directed by Kathy Hsieh
A grandmother gleefully shares fractured versions of all the fairy tales we thought we knew in this ACT Young Playwrights Program Festival Finalist.
Featuring Rachel Rene Araucto, Aya Hashiguchi Clark, Mi Kang, Parker Kennedy, and Kevin Lin.
The Blindman's Daughter
by Maggie Lee
directed by Maria Batayola
A young girl bonds with her dad when he shares his own version of the Korean story of the blindman's devoted daughter – Shim Chung.
Featuring Rachel Guyer-Mafune and Denny Le.
SIS Productions
is a production company that strives to create, develop and produce quality works that involve Asian American women, their themes, and Asian American issues. SIS Productions encourages opportunities and support for Asian American women to be involved in all aspects of the production of artistic endeavors.
Like our Facebook page for more insights on the show and the artists involved! Follow us on Twitter @SeattleSIS!
18th & Union
is a performance space in Seattle's Central District that serves as a home for solo and other portable performance and visual art, including theater, music, dance, comedy, and improv.
Youth Theatre Northwest
nurtures the intellectual, artistic, and personal development of children and youth through drama education, performing opportunities, and live theatre experiences.
---
Artists At Play (Los Angeles, CA)
2017 AAP Summer Salon
Seminar
by Theresa Rebeck
July 1, 2017
Join Artists at Play on Saturday, July 1 for the annual AAP Summer Salon fundraiser.

This year's AAP Summer Salon will feature a special presentation of Seminar by Theresa Rebeck with an exciting cast: Julia Cho ("This Is Us"), Ewan Chung (EWP's Chinglish), C.S. Lee ("Dexter"), Tess Paras ("Crazy Ex-Girlfriend) and Vincent Rodriquez III ("Crazy Ex-Girlfriend"). Tim Dang will direct this reading.




The AAP Summer Salon is an opportunity to incorporate diverse casting for a popular play that does not require but is consistently cast with all white actors.
---
Center Theatre Group (Culver City, CA)
King of the Yees
by Lauren Yee
July 9 through August 6, 2017
The 2016-2017 season at the Kirk Douglas Theatre concludes with the world premiere production of Lauren Yee's bitingly funny and heartbreakingly honest new play, King of the Yees. Directed by Joshua Kahan Brody and produced in association with Goodman Theatre, Yee's hilarious romp through her own history runs July 9 through August 6, 2017. The opening is set for July 16.
For nearly 20 years, playwright Lauren Yee's father Larry has been a driving force in the Yee Family Association, a seemingly obsolescent Chinese American men's club formed 150 years ago in the wake of the Gold Rush. But when her father goes missing, Lauren must plunge into the rabbit hole of San Francisco's Chinatown and confront a world both foreign and familiar. King of the Yees is a joyride across cultural, national and familial borders that explores what it means to truly be a Yee.
---
TheatreWorks Silicon Valley (Silicon Valley, CA)
The Four Immigrants: An American Musical Manga
Book, music and lyrics by Min Kahng
July 12 to August 6, 2017
The musical, based on Henry Yoshitaka Kiyama's "Manga Yonin Shosei," follows four Japanese immigrants living in San Francisco during the turn of the century. Leslie Martinson will direct.
---
Pork Filled Productions (Seattle, WA)
The Wong Kids in the Secret of the Space Chupacabra Go!
by Lloyd Suh
July 15, 2017
Staged reading in conjunction with Seattle's annual DragonFest! Free!
---
Mildred's Umbrella Theater Company (Houston, TX)
In a Word
by Lauren Yee
July 27 to August 12, 2017
About a woman who struggles through the two-year anniversary of her son's disappearance. Troy Scheid will direct.
---
Mu Performing Arts (St. Paul, MN)
Immigrant Journey Project
by Masanari Kawahara
August 4 to 20, 2017
Created by artist Masanari Kawahara, the project explores the 21st-century immigrant experience using puppetry, movement, and masks. Community members will be joined by Mu actors who will play cameo roles and serve as mentors for the newly trained performers.
---
Dobama Theatre (Cleveland, OH)
brownsville song (b-side for tray)
by Kimber Lee
September 1 to 24, 2017
---
Everyman Theatre (Baltimore, MD)
M. Butterfly
by David Henry Hwang
September 6 to October 8, 2017
---
ACT (Seattle, WA)
King of the Yees
by Lauren Yee
September 8 to October 1, 2017
---
Crowded Fire Theatre (San Francisco, CA)
A Tale of Autumn
by Christopher Chen
September 14 to October 7, 2017
Inspired by Shakespeare's Richard III and Macbeth, along with popular "quest-for-power" TV shows Game of Thrones and House of Cards, this new collaboration with Crowded Fire Playwright In Residence Christopher Chen is a modern day fable about the psychology of a one-time altruistic corporation whose seemingly benign tactics destroy a community over time.
---
Eugenie Chan Theatre Projects and 6NewPlays (San Francisco, CA)
Madame Ho
by Eugenie Chan
October 5 to 22, 2017 and October 28 to 29, 2017
---
Seattle Public Theatre (Seattle, WA)
SIS Productions
The World of Extreme Happiness
by Frances Ya-Chu Cowhig.
Directed by Desdemona Chiang
When Sunny is born in rural China, her parents leave her in a slop bucket to die because she's a girl. She survives, and at 14 leaves for the city, where she works a low-paying factory job and attends self-help classes to improve her chances at securing a coveted office position. When Sunny's attempts to pull herself out of poverty lead to dire consequences for a fellow worker, she is forced to question the system she's spent her life trying to master – and stand up against the powers that be.
---
East West Players (Los Angeles, CA)
Rogue Artists Ensemble
Kaidan Project: Walls Grow Thin
October 5 to November 5, 2017
WP's 52nd season commences with the world premiere of Kaidan Project: Walls Grow Thin, a special event presented in association with Rogue Artists Ensemble—a collective of multi-disciplinary artists that creates Hyper-theater, an innovative hybrid of theater traditions, puppetry, mask work, dance, music, and modern technology—with support from Venturous Theatre Fund of The Tides Foundation, the Jim Henson Foundation, the Japan Foundation, and the City of Los Angeles Department of Cultural Affairs. Written by Lisa Dring, Rosie Narasaki, and Chelsea Sutton with Rogue Artists Ensemble, and directed by Rogue's Artistic Director Sean T. Cawelti, Kaidan Project: Walls Grow Thin is a multi-sensory, site-specific experience refracting ancient Japanese ghost stories through a modern, multi-cultural lens, revealing the noise of our histories and the silences that haunt us. Performances run from October 5 – November 5, 2017 and will be staged at a secret Mid-City, six-story warehouse built in 1927, to be revealed after tickets have been purchased. More information at www.rogueartists.org.
---
Theatre Diaspora (Portland, OR)
The Brothers Paranormal
by Prince Gomolvilas
October 20, 21 and 22, 2017
Staged reading.
---
Artist Repertory Theatre (Portland, OR)
Caught
by Christopher Chen
Winter 2017/18
Ripped from today's headlines and breaking the theatrical mold, CAUGHT presents a sly philosophical puzzle that investigates the murky intersections of fact and fiction in the crafting of art … and news.
Timely, One-of-a-Kind Drama
2015 Barrymore Award for Best New Play
…an ingenious, beguiling play…" Lily Janiak, San Francisco Chronicle
Dramatist Guild's 2017 Lanford Wilson Award
---
La Jolla Playhouse (San Diego, CA)
Wild Goose Dreams
by Hansol Jung
September/October, 2017
A world premiere! This is about a North Korean defector who starts an online romance with a South Korean father. Leigh Silverman will direct.
---
Seattle Public Theater (Seattle, WA)
The World of Extreme Happiness
by Frances Ya-Chu Cowhig
October 13 to November 5, 2017
---
East West Players (Los Angeles, CA)
Yohen
by Phillip Kan Gotanda
October 26 to November 19, 2017
EWP and The Robey Theatre Company—which explores, develops, and produces provocative plays written about the Global Black Experience—present the revival of Yohen, written by Philip Kan Gotanda, directed by The Robey's Producing Artistic Director Ben Guillory, and starring Danny Glover, with support from the S. Mark Taper Foundation. In Japanese pottery, the term "yohen" refers to unpredictable changes that take place in the kiln. James and Sumi Washington are an interracial couple struggling to maintain their 37-year marriage after James retires from the US Army. The dramatic change in routine prompts questions about life, love, and aging, as the couple attempts to repair what's broken and decide what is worth saving. Performances run from October 26 – November 19, 2017 at the David Henry Hwang Theater at the Union Center for the Arts at 120 Judge John Aiso Street, Los Angeles, CA 90012. More information at www.eastwestplayers.org and www.robeytheatrecompany.com.
---
GENSeng (Geneseo, NY)
Carry the Tiger to the Mountain
by Cherylene Lee
November 8 to 12, 2017
---
Book It Theater (Seattle, WA)
Diana Wynne Jones's Howl's Moving Castle
with music and lyrics by Justin Huertas
November 29 to December 30, 2017
The fantasy follows a young woman who is transformed into an elderly one and must strike a deal with a demon to break the spell. Sara Porkalob will star.
---
The Wilbury Group (Providence, RI)
Churches
by Young Jean Lee
December, 2017
---
South Coast Repertory Theatre (Los Angeles, CA)
Sugar Plum Fairy
by Sandra Tsing Loh
December 3 to 24, 2017
In it, Loh recounts the story of when she was a preteen and the thing she wanted most was a role in her school's production of The Nutcracker. Bart DeLorenzo will direct.
---
Merrimack Repertory Theatre (Lowell, MA)
KNYUM
by Vicent Chum
January 10 to February 4, 2018
about a young man who is struggling to learn Khmer, the language of his family's home of Cambodia. KJ Sanchez will direct.
---
Long Wharf Theatre (New Haven, CT)
Office Hour
by Julia Cho
January 17 to February 11, 2018
about a professor who tries to understand what her troubled student is going through in his disturbing writings.
---
ArtsWest (Seattle, WA)
Peerless
By Jiehae Park
January 18 to February 11, 2018
---
Intersect Theatre (Philadelphia, PA)
Here Are Our Monsters
by A. Rey Pamatmat
January 19 to February 11, 2018
The play takes place in a post-marriage-equality America, and is about a gay man who proposes to his fiancé. Evren Odcikin will direct.
---
San Diego Repertory Theatre (San Diego, CA)
Vietgone
by Qui Nguyen
January 25 to February 18, 2018
---
Diversionary Theatre (San Francisco, CA)
The Cardboard Piano
by Hansol Jung
January 25 to February 25, 2018
about the daughter of an American missionary who travels to Northern Uganda and falls in love with a local teenage girl.
---
Denver Center for the Performing Arts (Denver, CO)
The Great Leap
by Lauren Yee
February 2 to March 11, 2018
When an American college basketball team travels to Beijing for an exhibition game in 1989, the drama on the court goes deeper than the strain between their countries. For two men with a past and one teen with a future, it's a chance to stake their moment in history and claim personal victories off the scoreboard. American coach Saul grapples with his relevance to the sport, Chinese coach Wen Chang must decide his role in his rapidly-changing country and Chinese American player Manford seeks a lost connection. Tensions rise right up to the final buzzer as history collides with the action in the stadium. Yee's "acute ear for contemporary speech" and a "devilishly keen satiric eye" (San Francisco Chronicle) creates an unexpected and touching story inspired by events in her own father's life.
---
Olney Theatre Center (Olney, MD)
Everyman Theatre (Baltimore, MD)
Aubergine
by Julia Cho
February 7 to March 4, 2018
---
Berkeley Repertory Theatre (Berkeley, CA)
Office Hour
by Julia Cho
February 2018
---
Playwright's Realm (New York)
Hello, From the Children of Planet Earth
by Don Nguyen
February to March 2018
The show takes place on a spaceship, where a lesbian couple is trying to have a baby. Jade King Carroll will direct.
---
Seattle Children's Theatre (Seattle, WA)
Citizen 13559: The Journal of Ben Uchida
Adapted by Naomi Iizuka
Based on the Dear America series book by Barry Denenberg
Produced with special permission from Scholastic
February 8 to March 4, 2018
"I was born here. I'm from here. I'm American."
Witness the story of 12-year-old Ben Uchida, a Japanese-American boy whose life is changed forever following the World War II attack on Pearl Harbor. When the U.S. government forces Japanese-American citizens into internment camps, Ben and his family must face difficult truths about the idea of home. One young person's struggle to understand a society allowing mass discrimination against its citizens poses questions as urgent today as they were in the past.
---
Imagination Stage (Bethesda, MD)
The Princess and the Pauper—A Bollywood Tale
by Anu Yadav
with music by Ashwin Subramanian
February 10 toMarch 18, 2018
about two girls from India whose story mirrors Mark Twain's famous tale about a prince and a peasant boy who swap places.
---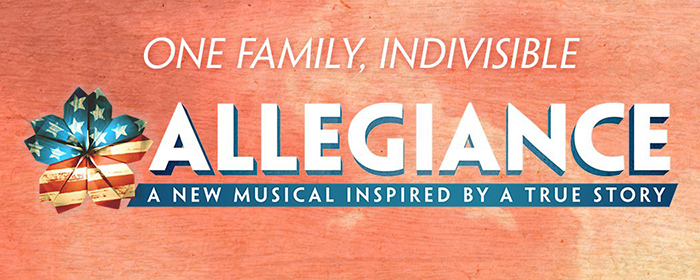 East West Players (Los Angeles, CA)
Japanese American Cultural & Community Center
Allegiance
Music and lyrics by Jay Kuo
Book by Marc Acito, Kuo, and Lorenzo Thione
February 21 to April 1, 2018
East West Players (EWP) and Japanese American Cultural & Community Center (JACCC) are pleased to announce the Los Angeles premiere of the Broadway musical Allegiance, which had its 2012 world premiere in a record-breaking engagement at the Old Globe Theatre in San Diego and played on Broadway from 2015-16 at The Shubert Organization's Longacre Theatre. Allegiance will be co-produced by EWP and JACCC by special arrangement with Sing Out, Louise! Productions and ATA, with performances at JACCC's Aratani Theatre in Los Angeles from February 21-April 1, 2018. Previews will run from February 21-25, with the Opening Night performance and reception on February 28.
---
Arena Stage (Washington, DC)
Hold These Truths
by Jeanne Sakata
February 23 to April 8, 2018
---
South Coast Repertory Theatre (Los Angeles, CA)
Cambodian Rock Band
by Lauren Yee
March 4 to 25, 2018
The play uses the music of real-life rock band Dengue Fever, to tell the story of the fallout from the Khmer Rouge.
---
TheatreSquared (Fayatteville, AK)
Vietgone
by Qui Nguyen
March 14 to April 8, 2018
---
Everyman Theatre (Baltimore, MD)
Aubergine
by Julia Cho
March 14 to April 15, 2018
---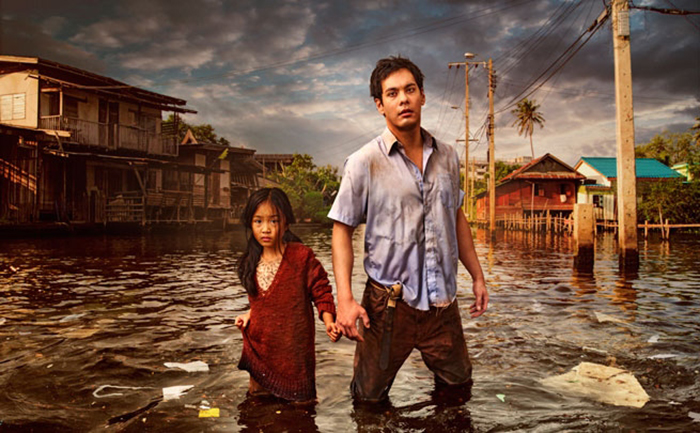 National Arts Centre (Ottawa, Ontario)
NAC English Theatre
carried away on the crest of a wave
March 21 to April 1, 2018
Born of a single cataclysmic afternoon, David Yee's stunning play tosses lives together and just as quickly pulls them apart – an apt metaphor for the massive tsunami that rolled across the Indian Ocean in 2004. Millions of lives were changed forever in a fury of water whose ripple effect gave rise to these far-reaching stories, extending from a Toronto shock-jock radio studio to the shores of Thailand. Winner of the 2015 Governor General's Literary Award for Drama and directed by Siminovitch Prize laureate Kim Collier, carried away on the crest of a wave shows that despite our differences, we are all connected through serendipity, loss and love.
---
Seattle Repertory Theatre (Seattle, WA)
The Great Leap
by Lauren Yee
co-world premiere
produced in association with Denver Center for the Performing Arts Theatre Company
March 23, 2018 to April 22, 2018
Leo K. Theatre
China, 1971. The Communist Cultural Revolution is in full swing. San Francisco, 1989. The city by the bay is on the brink of a cultural revolution of its own. The name of the game is BASKETBALL. Beijing University's Coach Wen Chang is the quiet, efficient Tim Duncan-esque Party supporter, and Manford is a young, sparky kid from SF's Chinatown, vertically challenged, yet graced with undeniable BALLER SKILL. As the story leaps back and forth in time, Wen Chang and Manford play the game, facing unimaginable CULTURAL BARRIERS and as they circle ever closer to one another, an undeniable truth is revealed: That sometimes there's more to life than MAKING THE SHOT.
---
Wilma Theatre (Philadelphia, PA)
Passage
by Christopher Chen
April 18 to May 13, 2018
The play is described as a fantasia on E.M. Forster's A Passage to India. Wilma artistic director Blanka Zizka will direct the HotHouse company.
---
Unicorn Theatre (Kansas City, MO)
Vietgone
by Qui Nguyen
April 18 to May 13, 2018
---
Mark Taper Forum (Los Angeles, CA)
Soft Power
book by David Henry Hwang
music by Jeanine Tesori
May 3 to June 10, 2018
Tony winner David Henry Hwang (M. Butterfly) riffs on a possible shift in relations between a rising China and the rest of the world in the decades to come in this world-premiere musical fable.
---
SpeakEasy Stage Company (Boston, MA)
Allegiance
book by Marc Acito, Jay Kuo, and Lorenzo Thione, and music and lyrics by Jay Kuo
May 4 to June 2, 2018
---
City Theatre (Pittsburgh, PA)
Nomad Motel
by Carla Ching
May 12 to June 3, 2018
The not-so-sunny side of California is nothing new to Alix: she's bouncing between motel rooms taking care of her twin brothers for her mostly MIA mother. Her classmate Mason is a budding songwriter trying to keep off the radar of his missing father's Hong Kong mafia connections. Together, the savvy teens must learn to scrape by without giving up their dreams. This world premiere play by newcomer Carla Ching (Fear the Walking Dead, Netflix's I Love Dick) is a coming-of-age tale about making something out of nothing.
---
Atlantic Theatre (New York, NY)
The Great Leap
by Lauren Yee
May 23 to June 17, 2018
---
East West Players (Los Angeles, CA)
As We Babble On
by Nathan Ramos
May 31 to June 24, 2018
EWP's 52nd season closes with the world premiere of As We Babble On, presented in partnership with the Los Angeles LGBT Center and with support from the S. Mark Taper Foundation. Written by Nathan Ramos, winner of EWP's "2042: See Change" playwriting contest, As We Babble On explores the pursuit of success, its costs, and conquering the Swedish BIGBOX. Benji, a first-generation Asian American, struggles in New York City to find his voice as his writing career stalls. As the professional paths of his best friend Sheila and his half-sister Laura begin to blossom, he begins to unravel. As We Babble On explores what lengths we are willing to go to realize our dreams, whether morality is tied to upward mobility, and whether boxed wine and soda is an appropriate sangria recipe after the age of 24. Performances run from May 31 – June 24, 2018 at the David Henry Hwang Theater at the Union Center for the Arts at 120 Judge John Aiso Street, Los Angeles, CA 90012. More information at www.eastwestplayers.org and www.lalgbtcenter.org.
---
Marin Theatre Company (Mill Valley, CA)
Straight White Men
by Young Jean Lee
June 14 to July 8, 2018
---
Magic Theatre (San Francisco, CA)
The Gangster of Love
by Jessica Hagedorn
Summer 2018
An autobiographical tale of Hagedorn's immigration from Manila to San Francisco.
---
Interested in what's just happened in Asian American theatre?
Check the Recent Calendar archives!
---