About a year following CATS' production of "Snow Falling on Cedars" in 2010 (a Book-It Repertory Theatre's adaptation of the book to the stage), it learned of another adaptation, this time by Annie Lareau of the Jamie Ford New York Times Best Seller, "Hotel on the Corner of Bitter and Sweet." We were immediately intrigued by the storyline of young love, World War II, the Japanese internment, and the subplot of the Chinese and Japanese conflict during the War. When "Hotel" was produced in 2012 by Book-It, several Board members flew to Seattle to catch it. It was apparent to us that it would be a good fit for CATS, Nevada County, and the Sacramento Region. For its 21st season, CATS was fortunate to secure Annie Lareau as director and will host the California premiere this week.
The focal point of the show centers on the real-life Panama Hotel in Seattle. Its proprietor during WWII stored belongings of many Japanese families when they were hauled off to the internment camps. Many of these possessions remain today, and they have served as a testament to those families who lost so much during the War. The discovery of these treasured possessions in 1986 prompted the protagonist in the play, Henry Lee, to "relive" memories of over 40 years ago and of his childhood sweetheart, who was sent to camp. Those revealed treasures prompted urgency in his heart to seek closure.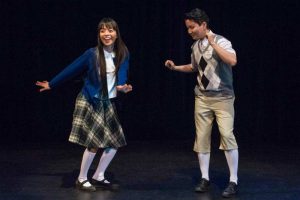 "Hotel" is an historical fiction, a family story, and a human story. Set in Seattle in the 1980s with flashbacks to the 1940s," Hotel" has a large multi-racial and multi-generational cast. The April 18 show is Opening Night with a Gala Reception after the show. CATS will welcome the author on Saturday, April 25, at "Meet the Author Jamie Ford." He will speak after the show, and his books would be available for sale at every performance. Tickets may be purchased at Briar Patch and the Book Seller in Grass Valley, as well as online at www.catsweb.org.  CATS has two discount shows: Final Dress on Thursday, April 16 (all tickets $10), and Preview on Friday, April 17 (all tickets $15).
A story of heartbreak, triumph, and redemption, Henry Lee's journey in life has none other been but bitter and sweet. "Hotel" plays at the Nevada Theatre in Nevada City from April 16 to May 9.  Some shows, especially matinees, have sold out already.