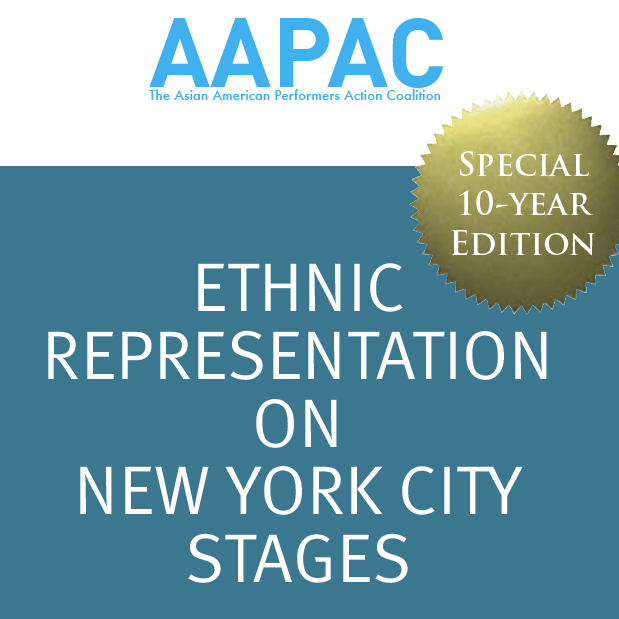 AAPAC Presents 10 Year Report on Representation on Stage
The Asian American Performers Action Coalition has released their 2015-2016 Stats Report, ETHNIC REPRESENTATION ON NYC STAGES, SPECIAL 10-YEAR EDITION. In addition to a detailed review of the 2015-2016 season, with this year's report, they have also amassed 10 seasons of data on ethnic representation. Included, for the first time, is a 10-year write up on each theatre company to detail progress over a sustained, finite period.
Some of the highlights include
"Asian American performers felt the steepest drop this season, tumbling 5 points to represent at 4% of all roles within the industry. The 10-year industry average for the hiring of Asian Americans stands at 3.7%. In 10 seasons, Asian representation has only hit levels above 4% twice."
(Note APIs comprise 12.7% of the metro NY area in 2010; more current estimates have boosted this to 14-16%)

"Asian American representation within the non-profit sector dropped 4 points to 3% this season. While the previous season had only one Asian playwright produced at a mainstream theatre company (The World of Extreme Happiness at MTC), it also had Asian-specific stories by Caucasian playwrights such as Indian Ink at the Roundabout Theatre Company and The Oldest Boy at Lincoln Center Theater. This season, only 7 out of 16 theatre companies had any Asian representation on their stages. There were no Asian-specific stories. The 10-year average for the hiring of Asian Americans in the non-profit sector is 4.3%, much lower than their respective population size for New York City. Asian Americans were the only minority group this year to fall below their respective 10- year average in the non-profit sector."

"2.1% of all available roles went to Asian American actors for roles that were not defined by their race, roughly on par with their levels the season prior. On the other hand, of all 49 Asian American actors employed, a whopping 53% of them worked as a result of non-traditional casting. Interestingly, Asian Americans this season were cast non-traditionally in world premieres more often than in classics, including School of Rock on Broadway, Mercury Fur at the New Group, Informed Consent at Primary Stages, and Friend Art and Engagements at Second Stage Theater, among others."
The complete report is available at http://www.aapacnyc.org/uploads/1/1/9/4/11949532/aapac_2015-2016_10year_report.pdf!