Asian American theatre artists in the Seattle grabbed the spotlight and shone particularly brightly in the 2018 Gregory Awards, the Puget Sound's most prominent awards for theatre.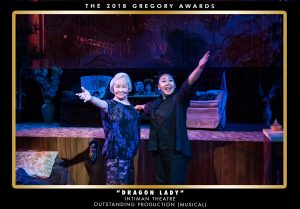 Sara Porkalob, a FIlipina American creator, won Outstanding Actress in A Musical for her starring role in her showcase Dragon Lady. The show itself won Outstanding Musical for its producer, Intiman Theatre, as well as Oustanding Sound/Music Design, for its three person team of Erin Bednarz, Pete Irving & Matt Starritt.
Rounding out the showcase was Sunam Ellis, who won Outstanding Supporting Actress in a Play, for her work in Hand of God for Seattle Public Theatre.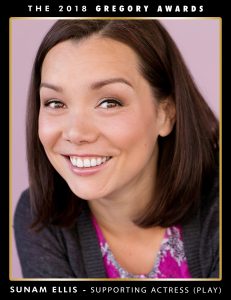 The Gregory Awards are a set of honors dedicated to theatre in Washington State. Administered, funded, and produced by Theatre Puget Sound, the Gregory Awards bring together theatre artists and audiences to celebrate, honor the outstanding achievements of local theatre practitioners, and to raise the visibility of the theatre in our region.
The Gregory Awards began with a single category, the Gregory A. Falls Sustained Achievement Award, in 1998. Since then, it has grown to encompass 18 categories, incorporating musical theatre categories, new work, technical awards, and the Melissa Hines Backstage Award to honor volunteers, board members, and administrators.
The Gregory Awards are now recognized as the most significant theatre awards in the northwestern United States, akin to the Ovation Awards in Los Angeles, and the Jeff Awards in Chicago.