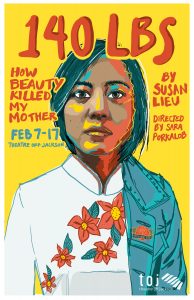 Susan was 11 years  old when her mother died of plastic surgery malpractice. 18 years and two Ivy League degrees later, she's finally ready to avenge her mother'sdeath.
"All of my family in Vietnam describe my mother like a saint. She was the one who had it all – twonailsalons,ahomeinthewinecountry,tripsbacktoVietnam,elaboratehousepartieswith her friends. She was the one who had breast implants. And then wanted more. She went in for a tummy tuck and the narrowing of her nostrils and figured she would be home the next day, with her beautiful new body. She was wrong. We still haven't talked about what happened to her 22 yearslater."
Two hours into surgery, Susan's mother loses oxygen to her brain and the plastic surgeon deliberately does not call 9-1-1 for fourteen minutes. Five days later, while in a coma, she flatlines. The surgeon is charged with medical negligence and her family falls apart; no one talks about what happened. Nineteen years later on her wedding day, Susan's mother's seat sits empty and Susan realizes she can no longer ignore what she's always wanted: to know who her mother was. Sifting through thousands of deposition pages and reaching out to the killer's family, Susan uncovers the painful truth of her mother, herself, and the impossible ideal of Vietnamese feminine beauty.
Written and performed by Susan Lieu, 140 LBS is directed by Sara Porkalob, assistant directed and stage managed by Jenny Crooks, and features lighting design by Emily Leong and sound design by Erin Bednarz.
Theatre Off Jackson's mission is to help maintain a vital arts culture in Seattle. TOJ accomplishes this by offering and operating an affordable, sustainable venue dedicated to performance, art, and community.
140 LBS is part of STG's new program, "A People's Theatre Joint," bringing arts and culture to theatres throughout Seattle.
140 LBS is made possible by the generous support of 4Culture and STG.
Listing Information:
Opening Night: Thursday, February 7th 7:30pm
Venue: Theatre Off Jackson, 409 7th Ave S, Seattle, WA 98104 Run of Show: Thursday, February 7th – Sunday, February 17th
Performance Times: Thursday – Saturday 7:30pm. Sunday matinees at 2pm. Monday show 7:30pm.
Age Requirement: 12+
Ticket Prices: $25/$18 students and seniors. Tickets available at https://www.brownpapertickets.com/event/3903678
Playwright/Performer: Susan Lieu Director: Sara Porkalob
Assistant Director/Stage Manager: Jenny Crooks Lighting Design: Emily Leong
Sound Design: Erin Bednarz
"An amazing kind of conversation…our mind is a hell of a storyteller isn't it and so are you [Susan]." -KUOW 94.9 "On the Record" with Bill Radke
###