The year 2018 was a banner year for Asian American drama, from the stellar Sandra Oh with her star turn in Killing Eve to Lana Condor's breakout in To All the Boys I've Loved Before to, of course, the absolute mega-smash phenomena of Crazy Rich Asians.
Asian American theatre hasn't been quite as splashy, but folks should see a growing tide of high quality work emerging from multiple playwrights, both old and new. Here are seven plays of the year in Asian American theatre that any theatre in any city would be proud to present:

Teenage Dick, by Mike Lew
As Jihae Park's Peerless is an updated version of Macbeth, Teenage Dick is a brilliantly hilarious take on Richard III, Shakespeare's classic tale of power and lust. Commissioned by and starring award winning actor Greg Mozzola, Teenage Dick reimagines Richard as a 16-year-old outsider  at Roseland High. Picked on because of his cerebral palsy (which Mozzola does), Richard is determined to have his revenge and become president of the senior class. 
Kind of tailor made for Sound Theatre in Seattle,  I think.
"Lew's sly commentary is sharp, balancing serious issues with nimble wit." The Stage
"The bloodbath at the end is every bit as tragic and gruesome as in the original. Truthfully, it's far more frightening, as recent news events have made all too clear."  Newsday
" But even in its more familiar mode, when the play merely translates "Richard III" into an unexpected milieu the way "Clueless" does with Jane Austen's "Emma,"it remains enjoyable. " NY Times
Wild Goose Dreams, by Hansol Jung
Written by a ferocious, upcoming Korean American writer, Wild Goose Dreams is about Minsung, a "goose father," a South Korean man whose wife and daughter have moved to America for a better life. Deeply lonely, he escapes onto the internet and meets Nanhee, a young defector forced to leave her family behind in North Korea. Amidst the endless noise of the modern world, where likes and shares have taken the place of love and touch, Minsung and Nanhee try their best to be real for each other. But after a lifetime of division and separation, is connection possible?
A penguin-heavy hit in San Diego and New York.  Is this something interesting for folks like Shana Bestock? 
"Hansol Jung's play is a rare and strange bird….Dreams can fly like crazy." San Diego Tribune
"Ms. Jung, a writer of industrious imagination, has a poet's gift for sustaining and interlinking motifs and metaphor."  NY Times
"Wild Goose Dreams is a tricky play, full of both richness and distraction. The core story of Nanhee and Minsung is artfully constructed: Jung has written characters that complement each other exactly yet also seem organic, messy and real." TimeOut NY

Two Mile Hollow, by Leah Nanako Winkler
Two Mile Hollow is a satirical take-down of the ever-popular White People By The Water genre- where affluent white people discover secrets and fight in a big house by the water. A non-white cast plays the very white Donnelly family with both compassion and brutality as Charlotte, a POC playing a POC comes of age. A direct response to ridiculous things that happen in the American Theatre like the constant use of yellowface and a sincere comedy. 
This play literally swept across the nation this past year, garnering  tons of praise. C'mon, Seattle…you're a town of white people who pride themselves on being "woke"—this deserves a production! (And look next year for her God Says This)
"Leah Nanako Winkler injects the dysfunctional family genre with brutality, awe and compassion through a parody coupled with moments of disorienting sincerity in Two Mile Hollow." Broadway World LA
"[Two Mile Hollow] is an outrageous, loony delight. Even if not every joke lands, the show nonetheless establishes Nanako Winkler as an imaginative, astute and uproarious new voice, and an important one to follow." SFGate
"…it's also so perfectly dissected and performed with such fearless commitment that the overly broad moments in director Hutch Pimentel's staging don't detract from our awareness of just how on-target Winkler is. The winking references to everything from Tracy Letts' August: Osage County (sharp-tongued Blythe shares Violet Weston's love of pills) to Downton Abbey show us that Winkler, like a good dramatic anthropologist, has studied the culture and ways of this overrepresented demographic well. " Chicago Tribune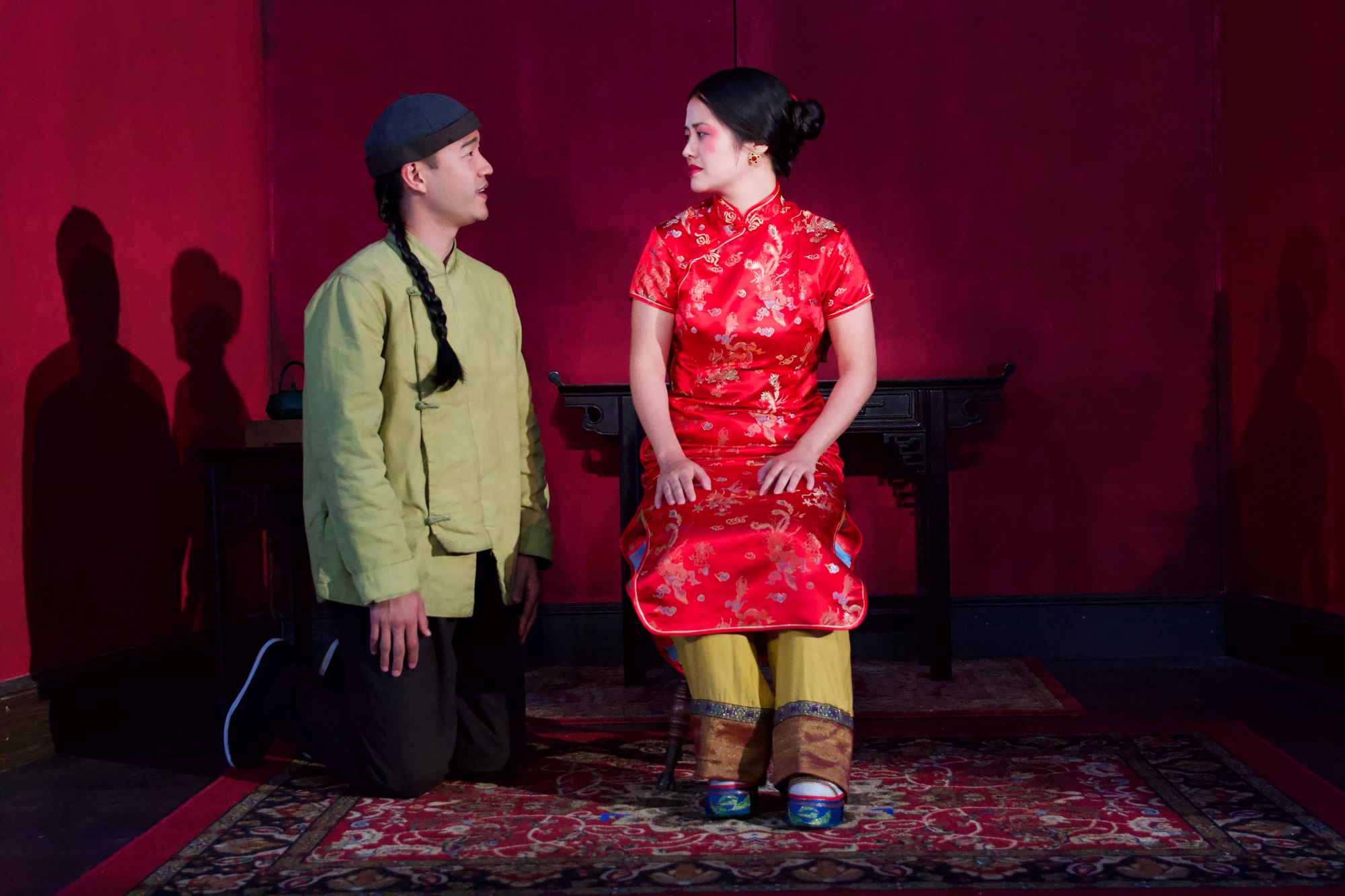 The Chinese Lady by Lloyd Suh
In 1834, Afong Moy is brought to the United States from Beijing and put on display for the American public as the "Chinese Lady." Over the next 45 years, she performs in a side show that both defines and challenges her own view of herself. Inspired by the true story of America's first female Chinese immigrant, playwright Lloyd Suh spins a tale of dark poetic whimsy in this piercing  portrait of America as seen through the eyes of a young Chinese woman.
Hm. I know a Seattle theatre company who wants to do this. Gotta get the script
"But by the end of Mr. Suh's extraordinary play, we look at Afong and see whole centuries of American history. She's no longer the Chinese lady. She is us." NY Times
"Suh explores Moy's story in an unusual, intellectually bracing way that explodes theater conventions. For most of the play she never leaves her box, often speaking directly to the audience — sometimes as if they're contemporaries from her own era, at others as if they're today's theater audience. "  Albany Times Union
"…for Suh her story provides the perfect springboard to explore the history of the Chinese in America and the ways in which we have not come nearly as far as we think.
Suh's play is also wildly funny as he gleefully lampoons the fetishization that Moy is subjected to. " NY Theatre Review
Usual Girls, by Ming Peiffer
Written by a protege of David Henry Hwang, Usual Girls asks How do girls grow up? The answer? Quickly, painfully, wondrously. On an elementary school playground, a boy threatens to tell on the girls for swearing—unless one of them kisses him. But just before lips can touch, Kyeoung tackles the boy to the ground. The victory is short-lived. Over the coming years, Kyeoung's stories get stranger, funnier, more harrowing—and more familiar.
"But in its world premiere, "Usual Girls" is exciting to watch. With hilarity and grimness, it connects the dots between pleasure, pain and shame." NY Times
"It's one thing to be able to articulate your artistic goals and another to pretty much nail them. But that's what Peiffer, along with director Tyne Rafaeli, has done with Usual Girls, a visceral growing-up play that moves from rambunctious to somber without apologizing for either extreme, its nuttiness or its anger." Vulture
"This vibrantly colorful and raw exploration of female identity, friendship, and isolation-performed by an excellent, almost all-female company-looks at the male-sourced damage done to young women, and the damage young women can do to each other in direct and indirect response. This is a very personal history of #MeToo. It isn't a smooth play, it is proudly scuffed at its edges. It feels workshop-py, rather than neat and sleek." The Daily Beast
Soft Power by David Henry Hwang and Jeanine Tesori
Speaking of the grandmasters of  Asian American theaters, he returns with a musical that astonished critics with sly send ups of Broadway musicals and American culture—while starring a singing and dancing Hilary Clinton as musical comedy heroine (and continues the trend he started of Asian American playwrights writing themselves into their plays).
So…maybe a team up of Fifth Avenue and ACT in Seattle?
"Soft Power' is a bold new style of theater" San Jose Mercury
"Soft Power…is a daring new entrant in that tradition…it nonetheless deserves to be known as one of the defining theatrical works of the Trump era and have a long, rich life thereafter." SFGate
"In the end, Soft Power's individual strokes of genius are greater than the sum of its parts as it grapples with issues perhaps too big to ever be consolidated into a 2.5-hour musical. It's sort of like the America it presents to audiences: a beautiful, provocative, profound, messy creation with no real solutions, whose reality is perhaps not as satisfying as its concept. But it doesn't mean it won't break your heart and put it back together again while trying." Entertainment Weekly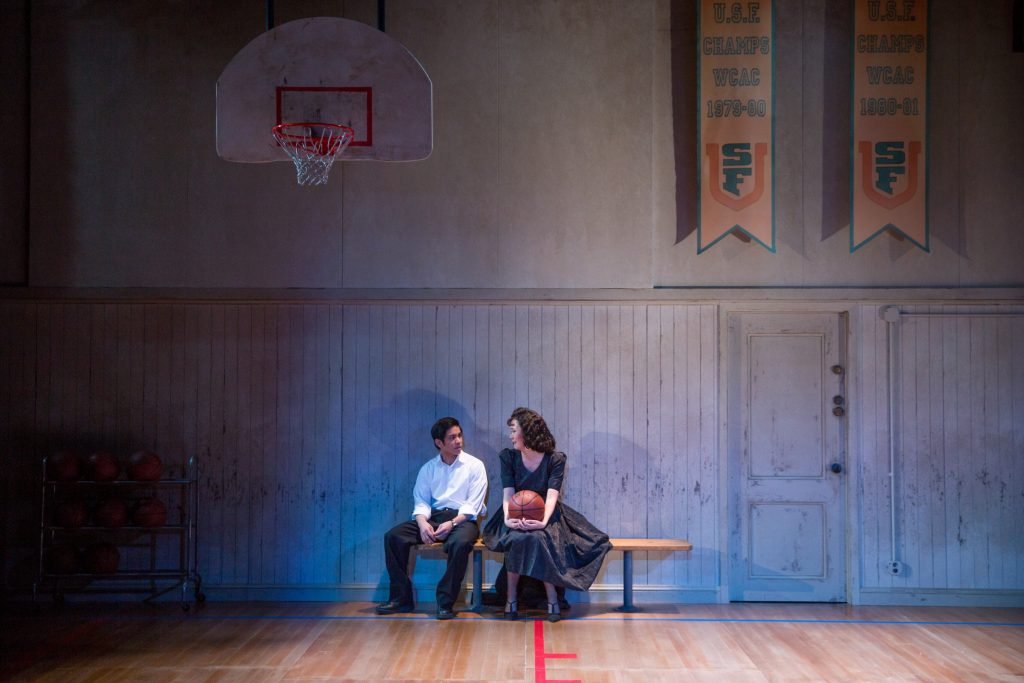 The Great Leap/King of The Yees by Lauren Yee
Speaking of putting  yourself into your plays, Lauren Yee literally dominated American stages with these two plays inspired by her family (and I'm saving her THIRD show, Cambodian Rock Band for next year). She and her father are literally the protagonists of King, while her father's  youth forms the bedrock of leap. Maybe Lauren was so production this year because she knew wasn't going to have time with the arrival of her first child?
China, 1971. The Communist Cultural Revolution is in full swing. San Francisco, 1989. The city by the bay is on the brink of a cultural revolution of its own. The name of the game is BASKETBALL. Beijing University's Coach Wen Chang is the quiet, efficient Tim Duncan-esque Party supporter, and Manford is a young, sparky kid from SF's Chinatown, vertically challenged, yet graced with undeniable BALLER SKILL. As the story leaps back and forth in time, Wen Chang and Manford play the game, facing unimaginable CULTURAL BARRIERS and as they circle ever closer to one another, an undeniable truth is revealed: That sometimes there's more to life than MAKING THE SHOT.
For nearly twenty years, playwright Lauren Yee's father, Larry, has been a driving force in the Yee Family Association, a seemingly obsolescent Chinese American men's club formed a hundred fifty years ago in the wake of the Gold Rush and the building of the transcontinental railroad. But when her father goes missing, Lauren must plunge into the rabbit hole of San Francisco Chinatown and confront a world both foreign and familiar. At once bitingly hilarious and heartbreakingly honest, King of the Yees is an epic joyride across cultural, national, and familial borders that explores what it means to truly be a Yee.
Wow. Sounds like two plays Seattle should—oh, wait, they HAVE done them.
"The Great Leap scores with a tale of hoop dreams and hardwood diplomacy" Denver Post
"In 2018, when China-U.S. relations are a cause of great anxiety, Yee's subtle teasing out of a complex cross-cultural ecosystem through intertwined personal stories is impressive, and her empathetic rendering of "a country that's been in the dark for 40 years," rings like a political tuning fork." City Arts
"If The Great Leap is a touch Hollywood-ish in its narrative neatness, it's still an exhilarating, deeply satisfying piece of work, powered by gutsy performances and full of bright, inquisitive, humorous life." Vulture