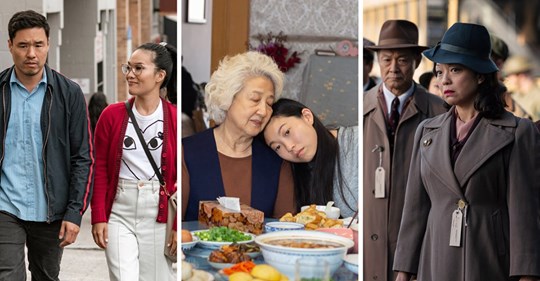 Asians Kicking Doors Open to Represent
Awkwafina looks at her life as pre- and post–Crazy Rich Asians. "So much has changed," the actor, born Nora Lum, says. "It impacts everything, every day." When she was cast in the multicultural romantic comedy two years ago, she was a modestly known rapper and YouTube star accustomed to auditioning for parts that required her to use an accent. She, like many Asian Americans in film and TV, found that the roles available to them rarely reflected their actual experiences; instead, they serviced white stories or leaned on stereotypes.
Awkwafina's career looks very different now. Crazy Rich Asians, released in 2018, was a global phenomenon that raked in $238 million at the box office and reinforced the idea that diversity could also mean good business. She joined several blockbuster movie franchises (Angry Birds and Jumanji); will star in a Comedy Central sitcom based on her life; and has earned rave reviews and Oscar buzz for her first dramatic lead role, in Lulu Wang's The Farewell, out on July 12. As Awkwafina's opportunities have increased, so have those of many other Asian Americans in film and TV. "Asian—American actors come to me and say, 'I couldn't get one audition before Crazy Rich Asians—now I'm auditioning every day,'" she says.
See more at Time magazine