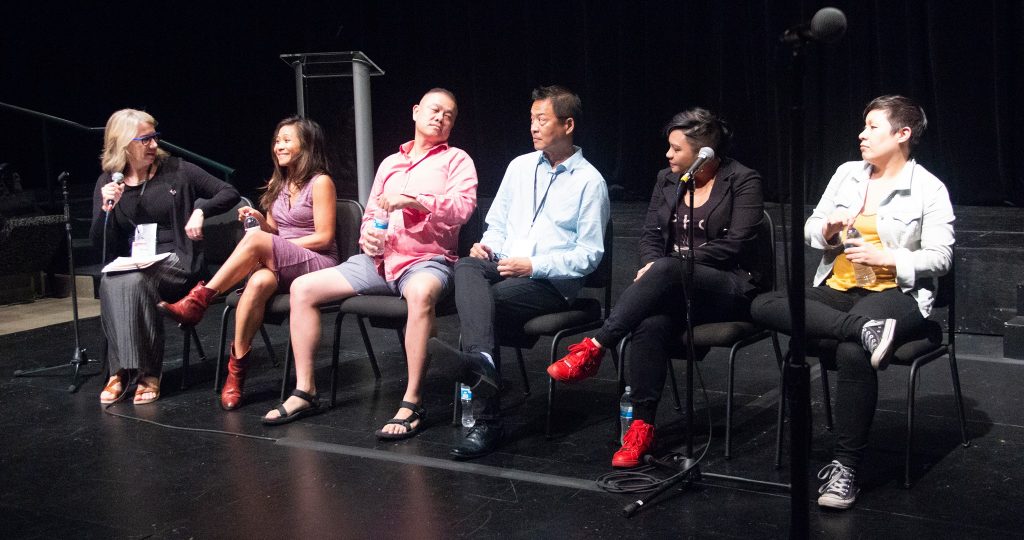 Cool Stuff in Asian American Theatre 9/2019
Another month, another set of new Asian American shows to see across the country!
The Great Wave
by Francis Turnly
Berkeley Rep
Sep 1 to 29
In a Japanese coastal town in 1979, teenage sisters Hanako and Reiko run onto the beach during a tremendous storm on a dare. Hanako is tragically swept out to sea, while Reiko survives – but recalls seeing three mysterious men on the shoreline. The authorities determine that Hanako has drowned, but her mother insists that her missing daughter is still alive.
Spanning over 20 years and the two vastly different countries of Japan and North Korea,The Great Waveis at once a riveting geopolitical thriller and a powerful story of the unshakable bonds between a mother, a daughter, and a sister who refuse to give up hope.
The Brothers Paranormal
by Prince Gomolvilas
Fonseca Theatre
September 6 to 20
Leg 3 of the rolling world premiere
The Brothers Paranormal tells the story of two Thai-American brothers who launch a ghost-hunting business in order to capitalize on the nationwide increase in sightings of Asian-looking ghosts. When the siblings end up investigating the home of an African American couple who claim to be haunted by one very terrifying spirit, everyone's notions of reality, fantasy, and sanity clash against the shocking truth. At times haunting, at times hilarious, The Brothers Paranormal serves as a powerful metaphor for grief, loss, and healing among communities of color.
musics & lyrics Adam Gwon
Roundabout
Sep 14 to Dec 8
Revenge is a dish best served with fries.
This deliciously dark new musical comedy, based on the cult film (and the bard's Macbeth), springs to life in a sleepy Pennsylvania town (population 1,203—and dropping), where a burger-joint manager and his wife cook up a plan to super-size their lives. As their ambitions grow and the bodies fall, the couple finds out just how far they'll go for a taste of the oh-so-tempting American dream.
by Anna Moench
Playwrights Realm
Sep 24 to Oct 13
Mothers, a satire about a Mom's group that turns into an apocalyptic survival tale.
by David Henry Hwang and Jeanne Tesorio
The Public
Sep 24 to Nov 3
One of the most exciting theatrical collaborations in recent memory, SOFT POWERis an exploration of America's current place in the world, told through an East-West musical from China's point of view, in which a theater producer from Shanghai forges a powerful bond with Hillary Clinton. SOFT POWERis a fever dream of modern American politics amidst global conversations, asking us all – why do we love democracy? And should we?
Continuing Cool Stuff
Ua Pau (It is Finished, Over, Destroyed),
by Alani Apio
Kumu Kahua
by Jessica Hagedorn and Fabian Obispo
Ma-Yi