2021 Michael Merritt Award Showcases Design and Collaboration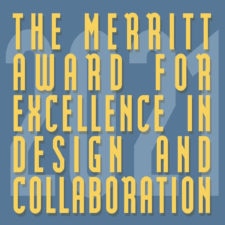 The Michael Merritt Award, a national award unique in its emphasis on excellence in both design and collaboration, is presented annually to professional theatrical designers.
The Michael Merritt Awards announces that on Monday May 17, 2021 the award ceremony will be a virtual event that will highlight two designers who are powerhouse advocates of inclusion and equity in employment.
The Merritt Award for Design and Collaboration will be presented to Clint Ramos; Designer, Educator, Activist and Creative Producer. You can explore Clint's work at clintramos.com.
The Merritt Award's first Arts Advocate Award will be presented to Elsa Hiltner, Costume Designer, Pay Equity Activist and Director of Development. You can explore Elsa's work at www.elsahiltner.com (pay equity work) and www.elsahiltner.myportfolio.com(design work).
5:00pm- 6:00pm – Engage with the work of graduating design, tech, and management students. SIGN UP HERE TO PARTICIPATE IN THE EXHIBITION as a presenter or to give our exhibitors feedback. We'll be doing a 'speed dating' format. Each attendee will spend 15 minutes with 3 different exhibitors and their online portfolio. Student really value talking on on one with directors, Artistic Directors, Designers who work with assistants, and Production Managers. Professionals new to the Chicago area or looking to expand their network may also exhibit.
Exhibition Details and Sign-Up
6:00pm-7:15pm – Live on zoom Awards Event. – REGISTER HERE TO ATTEND THE 2021 Michael Merritt AWARD Show. The event will feature a panel discussion and presentations of awards. The evening will be hosted by Sandra Delgado.
The Merritt Awards would love your suggestions for panel discussion questions. Please submit those here.
The Michael Merritt Awards and Endowment Fund honor the memory of a brilliant designer and inspirational teacher. The Michael Merritt Award, a national award unique in its emphasis on excellence in both design and collaboration, has been presented annually since 1994 to outstanding professional theatrical designers. The Endowment Fund recognizes and encourages the work of young professionals and students through a national design exposition and prizes to promising theatrical design students.
Collaboration is the biggest word in the theater.  It is the most important element in theatrical success.  Not just the collaboration between an author and a composer, but the total collaboration in every play, the convergence and co-ordination of all the different talents, producing, writing, directing, choreography, acting, scene designing, costume designing, lighting, orchestration, theater management, company management, public relations-the mixture of all these ingredients ingredients is essential to every theatrical meal that seeks to make itself palatable to the public.  To get along in the theateryou must enjoy working side by side with other people. You must be willing not only to give your best to them but to accept their best and give them the opportunity of adding their efforts to yours to their full capacities.
– Oscar Hammerstein II
The 2021 Michael Merritt Award is available to watch on Zoom.