Pratidhwani and ReAct Present 

Refugees in the Garden City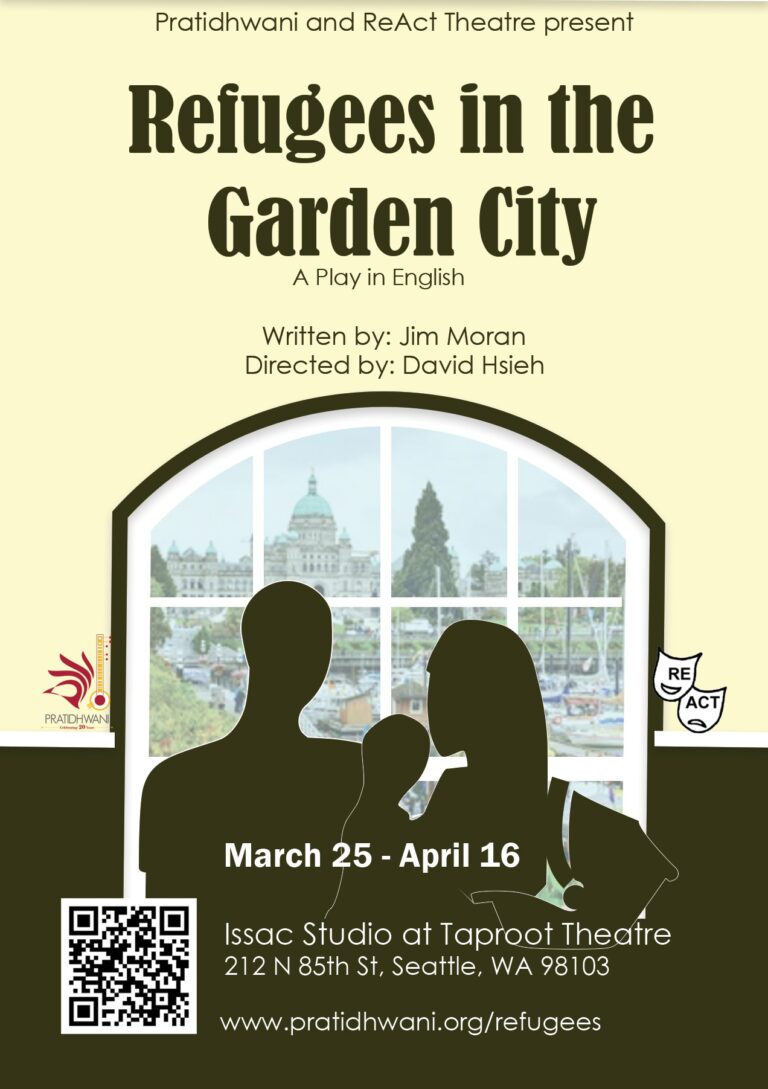 Seattle, WA, March 7, 2023 – Pratidhwani – a Seattle-area based organization of South Asian performing artists, and ReAct Theatre present the world premiere of
Refugees in the Garden City
, a play in English by Jim Moran, produced in collaboration with Taproot Theatre in the Isaac Studio at Taproot Theatre in the Greenwood neighborhood of Seattle. The production will run March 25th through April 16th, with performances at 7:30 PM on Fridays and Saturdays, and 2:00 PM matinees on Saturdays and Sundays, and is directed by ReAct's Managing Artistic Director, David Hsieh.
The two primary characters in the play, Arjun, an Indian immigrant man, and Rhiannon, an American woman, will be played by two sets of actors who will split the performances among them. Kira Dorrian and Jay Athalye (BLUE CAST) and Emily Shuel and Varun Kainth (GREEN CAST) will be joined by Wendy Chinn.
In Refugees in the Garden City, Arjun and Rhiannon find themselves in a hotel room in Victoria, BC, excited to start a new chapter in their lives. As we watch them navigate their present moment… with a little help from Doctor Who, we learn about the struggles of their past, and the uncertainty of the future that still awaits them.
The play explores the dreams and anxieties of a mixed-race couple still getting to know each other and who happen to be new parents. Responding to both the unexpected circumstances of their own lives, as well as the political sentiment towards immigrants and racial diversity, playful banter gives way to a knock-down, drag-out argument in this funny, poignant, 90 minute one-act. Pratidhwani, founded in 2003, is celebrating its 20th anniversary in 2023, and ReAct Theatre founded in 1993 is 30 years old this year. This is the second time Pratidhwani and ReAct Theatre are co-producing, after their critically acclaimed and crowd favorite production of Mother in Another Language by Tania Hussain, performed at ACT Theatre in 2011.
The performance schedule for the two casts is as follows:
Date                           Cast
March 25 Saturday 7:30 PM      Blue

March 26 Sunday 2:00 PM        Blue
March 31 Friday 7:30 PM        Green
April 1 Saturday 2:00 PM       Green
April 1 Saturday 7:30 PM       Blue
April 2 Sunday 2:00 PM         Blue
April 7 Friday 7:30 PM         Green
April 8 Saturday 2:00 PM       Blue
April 8 Saturday 7:30 PM       Green
April 9 Sunday 2:00 PM         Blue
April 14 Friday 7:30 PM        Green
April 15 Saturday 2:00 PM      Green
April 15 Saturday 7:30 PM      Blue
April 16 Sunday 2:00 PM        Green
Tickets: Available online at
www.pratidhwani.org/refugees
General: $20
Pratidhwani/TPS members, Seniors, and Students: $15
Access to Arts Discounted tickets: $15
Design Team and Crew:
Stage Manager: Kristin Brown
Assistant Stage Manager: Wendy Chinn
Assistant Director and Cultural Consultant: Apoorva Natarajan
Scenic Design: Robin Macartney
Lighting Design: Chrystian Shepperd
Props and Costume Design: Swati Srivastav
Intimacy Director: Sarah Harlett
Graphic Design: Archna Sharda
Website: Agastya Kohli
Show Sponsor: This production is made possible by the generous support of Cedar Crest Academy, Redmond, WA.
Pratidhwani and ReAct Info
About the Playwright
Jim Moran received his MFA in Playwriting from UNLV where his thesis play Emerald Eagle premiered at Nevada Conservatory Theatre. Shortly after, his play Martian Manhunter Lives was seen Off-Broadway at the Snapple Theater Center and he obtained a PONY Fellowship nomination from the LARK Play Development Center. Since returning to his native city of Seattle, he has received world premieres at Eclectic Theater Company with September Skies, Across A Little Red Marker, and Fangs, along with …And Starring Claire From Hollywood with Macha Theatre Works. His work has also been presented in Seattle at 14/48: The World's Quickest Theatre Festival, Bainbridge Performing Arts, Northwest Playwrights Alliance's Double Shot Festival, The Schoolyard at the Re-Bar, The Shoreline Arts Readers Theater and Sandbox Radio Live. He also served as the assistant to Tony Award-Winning playwright Terrence McNally for the book of Catch Me If You Can, the Musical when it debuted at 5th Avenue Theatre.
About the Director
David Hsieh is the Artistic Director at ReAct Theatre where some favorite directing credits include the Seattle Premieres of Salty, The White Snake, Time Stands Still, Yellow Face, Rabbit Hole, The Shape of Things and Closer. His presentations of Into the Woods and The Aliens both won Seattle Times Footlight Awards for Best Production. He recently directed Po Boy Tango at Tacoma Little Theatre and co-directed Kim's Convenience at Taproot. He has also directed for Second Story Rep, SiS Productions and 14/48. Pratidhwani audiences may remember his work as co-director for Mother in Another Language, or his scenic designs for Dance Like a Man, Washer/Dryer and Two Minutes of Your Time. Next up, David will be performing in The Peasant Prince with the Seattle Symphony in their Family Concert on April 1st and reprising his roles in Titanish and A Very Die Hard Christmas at Seattle Public Theatre later this year. Some of David's other favorite appearances onstage include The Elixir of Love, Hotel On the Corner of Bitter and Sweet, Royal Blood, The Brothers K, The Best Christmas Pageant Ever and A Language of Their Own. He is a founding board member of Theatre Puget Sound. When not directing, performing, stage managing or designing, David teaches acting for Freehold, and is the Casting Associate at ACT.
About Pratidhwani

Founded in 2003, Pratidhwani is a non-profit cultural organization based in the Seattle area, with a mission to create performing opportunities for artists of South Asian descent. We do this by creating opportunities via our own productions or discovering and encouraging performing opportunities for South Asian artists with other local production houses. Pratidhwani is organized in four wings – Classical Music, Light Music, Dance, and Drama, celebrating its 20th anniversary in 2023. For more information, visit
www.pratidhwani.org
.
About ReAct Theatre
Established in 1993, ReAct strives to provide affordable quality entertainment using primarily non-traditional and multi-ethnic casting. Its purpose is to give artists of all backgrounds the opportunity to work on mainstream projects they might not normally have access to due to ethnicity, gender, age or experience. A federally recognized 501(c)(3) non-profit philanthropic company, ReAct also works to serve our community by using its productions to raise money, awareness and supplies for other arts and humanitarian organizations. ReAct celebrates 30 years of diversity, equity and inclusion this year, and will be opening its new community event center this spring.
Pratidhwani and ReAct