31 Asian American Plays
31 Asian American Plays to Read for Asian Pacific Heritage Month (or, Canon! I say, Canon! For Asian American plays!)(Additional plays to consider here!)

1. Chickencoop Chinaman, 1972
The first Asian American play to receive a major production on a New York stage, back in 1972, CHICKENCOOP was a groundbreaking play in many ways. In the nascent Asian American identity movement, this play was a major touchstone in defining the Asian American identity; grassroots organizer counted it as one source that helped define the identity. What may be of particular interest now is how the play handles themes of cultural appropriation (some of the answers may not be suited for the 21st Century).
I also want to emphasize how influential this play was, not just for theatre folks, but for Asian Americans and the movement as a whole. While the arts weren't everyone's cup of tea, it was understood that politics, art and activism was one…it was all of one piece.
American Place Theater
Written by Frank Chin
Directed by Jack Gerber
Cast: Randall Duk Kim, Joanna Pang, Sab Shimono, Sally Kirkland, Anthony Marciona, Calvin Jung, Merwin Goldsmith, Leonard Jackson
2. Gold Watch, 1972
I consider this one of the two definitive camp plays in the canon. The domestic drama takes place in the Pacific Northwest between the fall of 1941 and the late spring of 1942. The play focuses on the Murakami family, an Issei/Nisei farm family with two children, ages fourteen and four, along with the Tanakas, who run a store and have a nineteen year old Kibei son, as they prepare for their impending exclusion and incarceration. The main characters are based loosely on her parents.
(And….as a side note…this is one of the few shows where I was on stage as an actor, 1998, in the Northwest Asian American Theatre revival…."But what about the Buddhists?!")
Photo, I think, taken from the PBS production.
Inner City Cultural Center, Los Angeles,
Written by Momoko Iko
Directed by C. Bernard Jackson,
Cast: Shizuko Hoshi, Mimosa Iwamatsu, Richard Kato, Joanne Lee, Serena McCarthy, Irvin Paid, Bill Shinkai, Momo Yashima

3. And the Soul Shall Dance, 1977
One of the first classics in the canon, AND THE SOUL SHALL DANCE revolves a young Japanese American girl and her parents as they struggle to live in Central California during The Great Depression. They play grapples with many of the issues facing Japanese Americans in America such as assimilation, immigration, social, economic and political status, and simply surviving.
The play is based on her short story by the same name that was published in Aiiieeeee! An Anthology of Asian-American Writers and was made into a PBS film in 1977. The play went on to win Los Angeles Drama Critics Circle Award for best new play of 1977.
There was an initial workshop production in 1975 or so at Seattle's Asian Exclusion Act (later Northwest Asian American Theatre), probably directed by Garrett Hongo, and featuring Bea Kiyohara and Stephen Sumida and Amy Hill. The finished version premiered at East West Players and featured Shizuko Hoshi, Keone Young, Josie Maseras Pepito, Jim Ishida, Susan Inouye, and Mimosa Iwamatsu. Mako and Alberto Isaac.
SOUL holds up incredibly well over the years, and has been successfully revived by Asian American theatres over the years. Fodder for future seasons, eh? (Photo from the East West production: Haunani Minn, Yuki Shimoda, Jim Ishida and Josie Maseras Pepito)
East West Players
Shizuko Hoshi, Keone Young, Josie Maseras Pepito, Jim Ishida, Susan Inouye, and Mimosa Iwamatsu. Mako and Alberto Isaac.

4, Song for a Nisei Fisherman, 1980
This classic play delves into the search of a Japanese American man to understand his life as he recalls his journey from childhood to retirement. At once both deeply personal and truly universal, this play reflects the beauty and pain of growing up Japanese American in the 20th Century.
Premiered 1980, Stanford Asian American Theater Project, directed by David Hwang, featuring David Pating, Lisa Pan, Angela Goldman, Loren Fong, Stacy Azama (and one or two others I've forgotten). Oh, and tech direction and lighting design by…me.
David and Phil are probably two of the large figures in the 2nd wave of Asian American theatre creators, where the need to define identity has been established and receded into subtext. The pathways have shifted from the brain to the heart, where the artistry is more evocative than ideological. This play, besides being a watermark in my own evolution, is a crest of a moodier, more emotive phase in the field, and still holds up today (though any production will now rely on dramaturgical research rather than claiming a common cultural memory).
No production stills, far as I can tell, are around….but I still have a T-shirt from the production….and as a bonus, the poster from the Asian American Theater Company production that quickly followed (featuring Marc Hayashi…).
Stanford Asian American Theatre Project
Written by Phillip Kan Gotanda
Directed by David Henry Hwang
Cast: David Pating, Lisa Pan, Henry Loren Fong, Stacy Azama, Angela Goldstein
5. Paper Angels, 1980
PAPER ANGELS offers an intimate portrait of the immigrant experience, revealing the universal desires and haunting realities of those coming to America. All performances will be followed by brief post-play discussions to connect the events explored in the play from 1915 with those happening today in 2015.
The play's characters are a cross-representation of the approximately 175,000 Chinese immigrants who entered the U.S. between 1910 and 1940 through Angel Island in the San Francisco Bay. From 1882 to 1943, the Chinese were prohibited from immigrating to America due to the Chinese Exclusion Act, giving the Chinese the dubious distinction of being the only ethnic group to have specifically been banned from coming to America.
This is an enduring play, that embodies eternal truths, and is worthy of periodic revivals, not just by Asian American theatres. That it is especially relevant today, with this administration, means it needs to be seen by everyone more than ever.
Asian American Theater Company,
Written by Genny Lim
Directed by Amy Hill,
Cast: Bernadette Cha, Lynette Chun, Dennis Dun, Art Lai, Damon Lee, Wood Moy, Kitty Tsui and Victor Wong
Archival video recording available.
6. Yellow Fever, 1982
Sam Shikaze, a smooth private-eye, narrates his own story about what happened when he was hired to find the missing Cherry Blossom Queen. He is soon trapped in a web of racism and political intrigue that seems to lead back to the Hong Kong tongs. Chuck Chan is a lawyer who tried to help solve the case, while Nancy Wing is a beautiful reporter who is searching for a story. Captain Kadota, an old friend of Sam's, offers his aid as a member of the police force; although, he and Sam don't see eye to eye on politics.
Satisfying a deep need for larger than life, two-fisted heroes in the Asian American canon, YELLOW FEVER was an instant smash for AATC and Pan Asian, and spawned two sequels, ONCE IS NEVER ENOUGH, and ROSIES CAFE. More importantly, it launched the career of Shiomi, who rose to prominence as the long time artistic director of Mu Performing Arts (one of the largest producers of new Asian American plays in the country) and was named the 2015 McKnight Foundation Distinguished Artist. The play is strangely prescient with its underlying plot (Hm. Imagine. White supremacists in police departments) and has been successfully been revived by theatres across the country and has even been gender bent to feature a tough as nails female hero.
Asian American Theater Company
Written by Rick Shiomi
Directed by Lane Nishikawa
Cast: Art Lai, June Messina, Dennis Dun, John Nishio, Suzie Okazaki
7. The Wash, 1985
Masi Matsumoto has been separated from her husband, Nobu, for more than a year, but she still returns weekly to pick up and deliver his laundry, while Nobu refuses to believe their marriage is over. One daughter hopes for reconciliation; the other estranged from her father since her marriage to a black man, encourages her mother's move towards freedom. Nobu is engaged in a growing friendship with restaurant owner Kiyoko, but when he discovers that Masi has tentatively begun a relationship with another man, Sadao, Nobu's pride is battered, and he becomes reclusive and obstinate. Finally, Masi asks Nobu for a divorce, and at the end of the play, Nobu is alone trying to figure out what his life has become, and how to restore relationships with his daughters.
One of the finest Asian American plays from the second wave of Asian American writers, THE WASH has done well in every venue that it's played and is yet another piece that's ripe for revival. Gotanda has even done versions of his play with other ethnic groups (a 2012 version with Jamaicans).
Originally workshopped at the Mark Taper Forum. Directed by Barbara Damashek. With Mako, Shizuko Hoshi, Kim Miyori, Rosalind Chao, June Kim, Sab Shimono, Momo Yashima and Daniel Kuramoto.
((h/t) to Jodi Long). Photo from the 1991 Mark Taper production: With L- R, Jodi Long, Suzi Hoshi, Sab Shimono, Carol Honda, James Saito, Nobu MsCarthy, George Takei and Diane Tanaka.
Mark Taper Forum.
Written by Phillip Kan Gotanda
Directed by Barbara Damashek.
Cast: Mako, Shizuko Hoshi, Kim Miyori, Rosalind Chao, June Kim, Sab Shimono, Momo Yashima and Daniel Kuramoto.
8. Tea, 1987
TEA tells the story of five Japanese women who come to the United States as "war brides," settling with their American husbands in an Army base in Junction City, Kansas.
Following the tragic death of one of the women, the other four gather together to share tea and remembrance. As each woman's story unfolds, we learn what life in small-town America gave them, and what it took away. Told with a mixture of sadness, joy, beauty and humor, Tea examines a chapter of American history that has been nearly forgotten.
This is a play that has aged well, having periodic remounts through the years since its debut in the 1980s. I've seen it produced at Asian and non-Asian American theatres alike, with none of its spirit lost or diluted.
TEA, Manhattan Theatre Club, 1987, directed by Juliane Boyd, cast Takayo Fisher, Lily Mariye, Jeanne More, Natsuko Ohama and Patti Yasutake.
Manhattan Theatre Club,
Written by Velina Hasu Houston
Directed by Juliane Boyd,
Cast: Takayo Fisher, Lily Mariye, Jeanne More, Natsuko Ohama and Patti Yasutake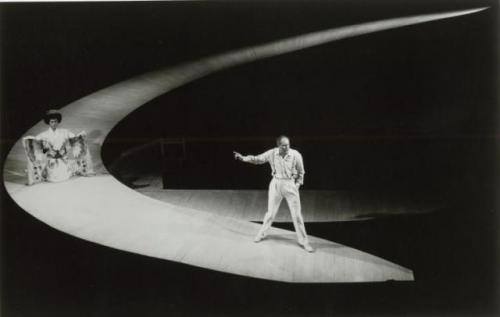 9. M. Butterfly, 1988
GIven its stature in the Asian American theatre canon, its inclusion can be considered more or less inevitable. First Asian American playwright to win a Tony. B. D. Wong as one of the few Asian American actors to win a Tony. (And director John Dexter also won a Tony).
Based on the true story of French diplomat Bernard Boursicot and Shi Pei Pu, a male Peking opera singer, M. BUTTERFLY is a much more expansive story of cultural hubris and imperialism, somewhat presaging the days of Western decline (at the time, I said I would have given my right arm to have written such a script…and it would have been a bargain); an ambitious work whose reach nearly matches its grasp. It was not without its critics from within the community (though, in recollection, some of the critiques seem less than respectful of gay people), but the play still hits many of the points that the Asian American community have made throughout the years AND STILL ARE MAKING. Guess that makes it still relevant….
Interestingly enough the 2018 revival featured some interesting revisions in the script that emphasized the toxic masculinity that was only hinted at in the earlier version, and tried to incorporate versions of queer and non-cis gendered sexuality into the text.
National Theatre, Washington, D.C., on February 10, 1988.
Written by David Henry Hwang
Directed by John Dexter
Cast: John Lithgow as Gallimard and BD Wong as Song Liling. Also featuring Alec Mapa, Chris Odo and H. J. Guan. John Getz Renee, Rose Gregorio. Lindsay Frost. Lori Tan Chinn. George N. Martin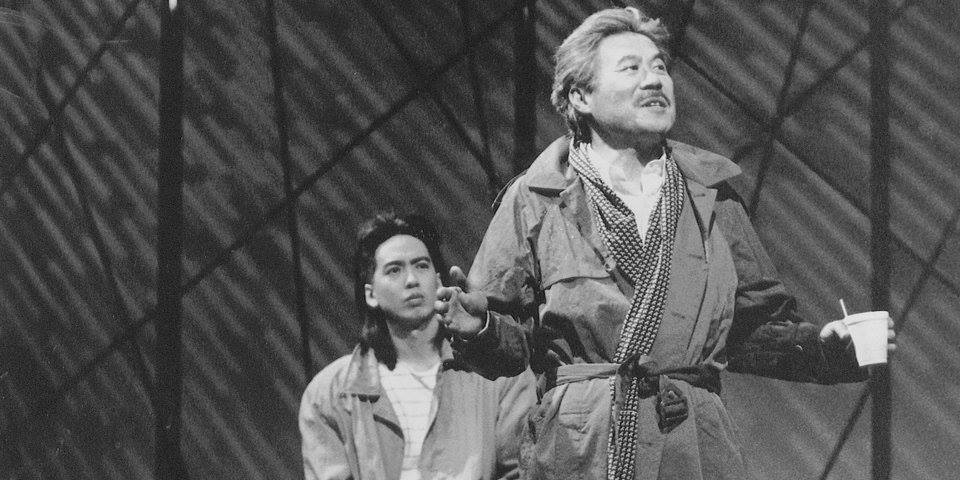 10. Yankee Dawg, You Die, 1988
Bradley Yamashita is one of the new breed of Asian-American actors. Highly political and outspoken, he will only take on acting roles that are dignified and unstereotypic. He has recently starred in a small independent film that is the darling of the art crowd, and he arrives in Hollywood full of himself and his politics. Vincent Chang is a survivor. He cut his teeth on the old "Chop Suey" circuit as a hoofer and went on to star in feature films, even garnering an Oscar nomination in the 1950s. Now, though still regal and debonair, Vincent is forced into taking often stereotypic and undignified roles. Through a series of quick-moving scenes, we follow the two men as they meet, form a tenuous friendship and together do battle amidst the often humorous and at times ruthless backdrop of the Hollywood film world. While maintaining the portrayal of integrity as all important, Bradley must face the reality of the same lack of work for Asian actors as Vincent faced in the early days of film. Vincent also teaches Bradley the dignity of survival as he learns to take on more of the cultural responsibility Bradley wishes him to accept.
Ah, how the more things change, the more they stay the same…and others didn't change at all. Monologues from this work haven proven to be audition staples over the years…and it is as fresh and timely as it was almost three decades ago.
Photo taken from Playwrights Horizon production, with Sab Shimono and Stan Egi.
Berkeley Repertory Theatre,
Written by Phillip Kan Gotanda
Directed by Sharon Ott
Cast: Sab Shimono and Kelvin Han Yee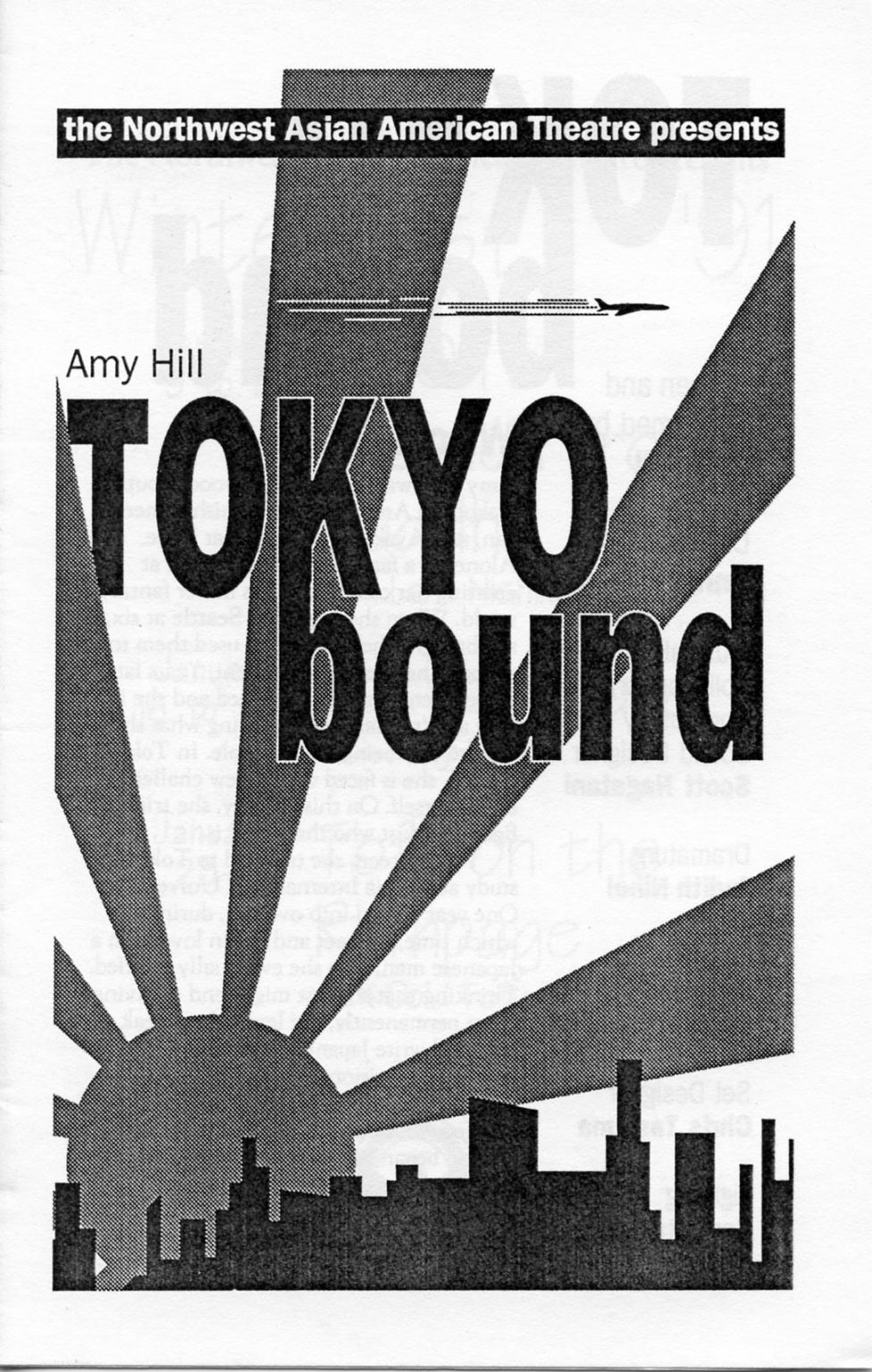 11. Tokyo Bound, 1990
Among the first in the wave of solo shows that emerged in the 90s, that included Winston Tong (Bound Feet, 1978), Lane Nishikawa (I'm on a Mission From Buddha, mid-80s?), Jude Narita (Coming into Passion, 1987), Nobuko Miyamoto (Joanne is My Middle Name, late 80s), and Dan Kong  (Secrets of the Samurai Centerfielder, 1989).
First performed at the Japan American Cultural Center in 1990 and then at East West Players in 1991 and directed by Anne Etue, TOKYO BOUND is an autobiographical show telling what it is like growing up in the Seattle as the child of a Finnish-American father and a Japanese mother. Two additional solo shows followed, broadening this look at multicultural life in America.
(This is the program when the show hit Seattle and the Northwest Asian American Theatre)
Japan American Cultural Center in 1990 and then at East West Players in 1991
Written by Amy Hill
Directed by Anne Etue
12. Letters to a Student Revolutionary, 1991
Bibi Lee is a typically jaded American rebel reluctantly on a "back to your roots" family vacation in China. Desperately, Bibi sets out to find fast food and familiar faces. Instead, she finds Karen, a young, idealistic Chinese girl who wants to practice a little English. From this seemingly innocent chance encounter, these two young women—one Chinese, the other Chinese-American—embark on a charming, poignant 10-year correspondence, cut abruptly and tragically short by the June 1989 Tiananmen Square massacre. This bittersweet tale seeks to make sense of history, how we participate in it and how we are overwhelmed by it. By focusing on the loves and losses, desires and disappointments of Bibi and Karen, the play explores ideas of capitalism and communism, and ultimately becomes a clarion call to remember the price of democracy.
While references are dated (its two decades since Tiananmen!), I almost think the two countries have traded places in the intervening decades. A straight up revival would work; a "sequel" would also work, reflecting on the changes the two countries have gone through (and how they haven't changed).
Picture from Albany NY production.
Pan Asian Rep
Written by Elizabeth Wong
Directed by Ernest Abuba,
Cast: Caryn Ann Chow, Karen Tsan Lee, Andrew Ingkaver, Mary Lum, Christen Villamor and Keena Shimizu
13. Bondage 1992
BONDAGE moves away from DHH's earlier exploration of immigrant, diasporia concerns and into more general ruminating about ethnic identity in general. This presages David's later ideas about the mutability of American ethnic identity that he develops further in YELLOWFACE and uses a great deal in KUNG FU. And given the ongoing (and interminable) debate about the AF/WM/AM/WF qudrangle, there's something very much relevant here.
In BONDAGE, a female dominatrix portrays various races, including Caucasian, Asian, and African American, as does her male client. Because both wears masks and are entirely clothed in leather, race and skin tone are not revealed to the audience until the end.
(Photo taken from the Yale Cabaret production, with Nelson Eusebio)
Humana Festival
Written by David Henry Hwang
Directed by Oskar Eustis
Cast: B. D. Wong, Kathryn Lang
(Having produced this play in the past, I can assure you there is great fun to be had by all in procuring props and costumes for this show.)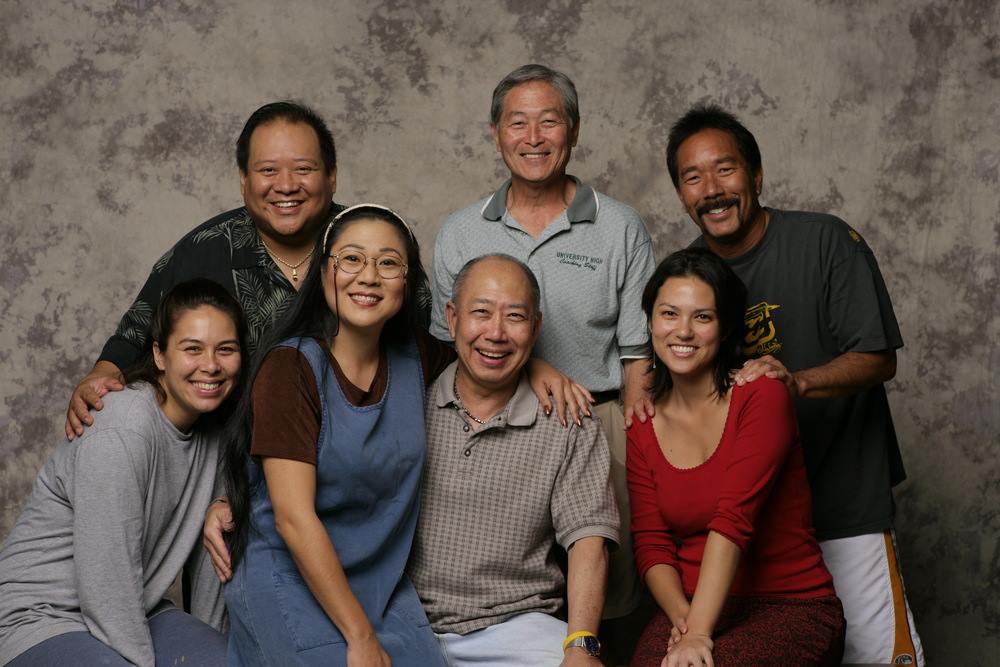 14. Aloha Las Vegas, 1992
Edward Sakamoto is one of Hawai'i's most popular playwrights. His skillfully constructed depictions of "local life" and command of stylized narrative devices have earned him recognition and acclaim both in the Islands and elsewhere in the U.S. He is probably the most under-appreciated author in the Asian American theatre canon, with a large repertoire of plays that have been sadly under-produced across the nation, despite the large number of Hawaiians who've come to the mainland from the islands.
In ALOHA, Wally Fukuda lives in the Liliha district of Honolulu. He's a recently retired baker still recovering from his wife's death. His friend Harry, visiting from Las Vegas, tries to persuade him to sell his house, make the move, and enjoy a new life. In spite of his love for Hawaii's fresh air and beaches, Wally warms to the idea. But when he seeks approval from his married son and unmarried daughter, one is opposed to the whole idea. The ensuing debate over the relative merits (and demerits) of each location, embodied in the dynamics of a quick-changing contemporary local family, makes for great comedy–spiced with a strong dose of thought-provoking realism.
Original production: September 18, 1992, by Kumu Kahua at Tenney Theatre, St. Andrew's Cathedral
Directed by James A. Nakamoto
Gracie: Nan Asuncion
Wally Fukuda: Larry Fukumoto
Harry: Dennis Ihara
June Fukuda: Karen Yamamoto Hackler
Alvin Kawabata: Dann Seki
Butch Fukuda: Byron J. Ono
Deedee Fukuda: Meredith Rose Hill
(h/t Daniel Akiyama)
Photo is from Kumu Kahua's 2002 revival, with Nara Cardenas, Janice Morimoto, Dann Seki, Salli Morita, Tony Solis, Allan Okubo, Eric Mita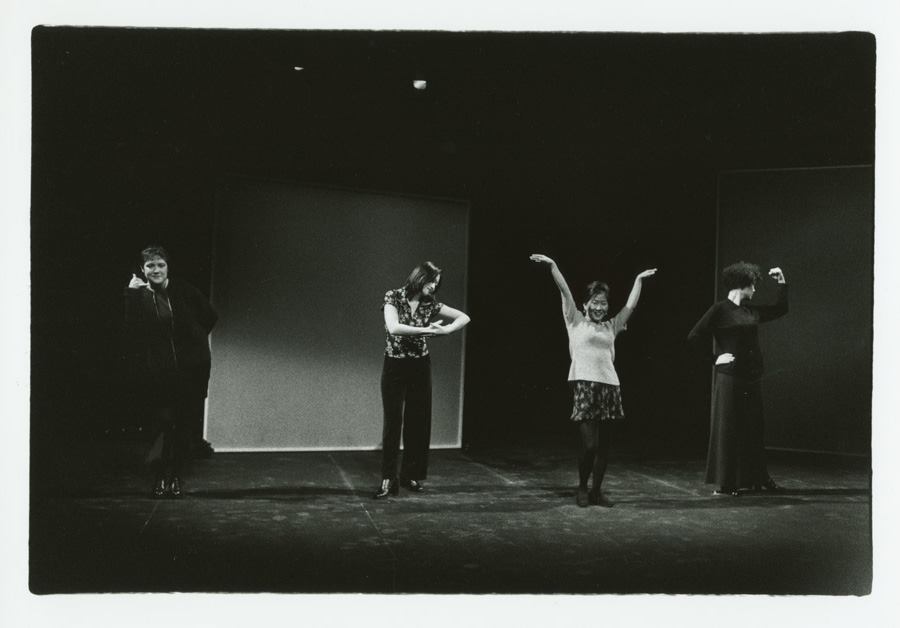 15. R.A.W. 'Cause I'm a Woman, 1993
R.A.W. stands for 'Raunchy Asian Woman,' as the play explores stereotypes about Asian woman, such as that of the geisha, the exotic virgin, or the suicidal Miss Saigon. An all Asian American women cast perform dance, music, and spoken word. Their voices address the politics between mixed raced relationships, specifically between Asian American women and white men; quotidian and apparently minimal things like Asian hair in relation to a White woman's hair; the experience of being a queer Asian woman; dating a Korean man from the perspective of a Korean woman, etc. All the characters come on stage and share their experiences of being Asian women in multiple shapes, forms, and identities.
While her STOP KISS is probably her most famous stage work, Diana Son gave the theatre world notice with this early effort about Asian American women (which is, sadly, still relevant today). Son later went on to an extremely successful television career, writing, producing and show running a wide swath of shows, including LAW & ORDER: CRIMINAL INTENT, AMERICAN CRIME and 13 REASONS WHY.
Photo taken from the 1996 New WORLD Theater production (Ji Sook Lee, Dianne Suh, Linda Louise Blewitt, Lisa Hori-Garcia)
Ohio Theatre,
Written by Diana Son
Directed by Lenora Champagne,
Cast: Kim Ima, Lisa Ann Li, Liana Pai and Elaine Tse
16. A Language of Their Own, 1994
A LANGUAGE OF THEIR OWN focuses on Oscar and Ming who had been together for four years. They break up after Oscar is diagnosed with AIDS, however, neither is able to let the other go completely. Both begin relationships with new boyfriends and find navigating these relationships just as complicated as when they were together – like learning and creating the nuances of a new language.
The gay community within the Asian American population had yet to receive wide attention until this ground breaking play. While the piece is a bit dated (the AIDS epidemic looms over the action of the play), the empathic treatment of these flawed, very human people was a major step in presenting a fuller, rounder view of the Asian American community.
Celebration Theatre
Written by Chay Yew
Directed by Tim Dang
Cast: Dennis Dun, Chris Tashima, Noel Alumit  and Anthony David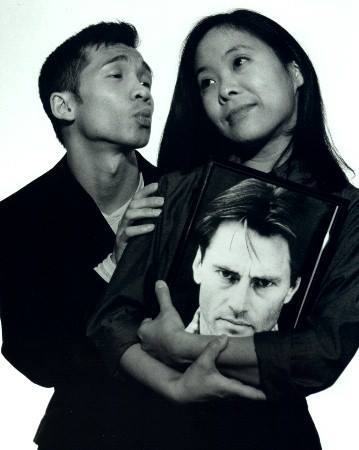 17. S.A.M. I Am , 1995
Thoughtfully drawing on the dating-scene foibles confronting the single Asian male, Omata traces the lovelorn path of his hero John Hamabata (Doug Yasuda), a shy restaurant assistant manager, as he courts a beautiful news writer (Joanne Takahashi) whose romantic ideal is Sam Shepard. The importance of being Sam is paramount to John as he reinvents himself to win her favor, improbably becoming a best-selling author.
One of the better embodiments of the eternal struggles of Asian males and their place in American society (take a look at any discussion board; it flairs up with regularity), which would later get taken up with plays such as COWBOY V. SAMURAI. As well the DNA of SEX IN SEATTLE also owes a debt to this show.
Photo taken from the Seattle ReAct Theatre production.
East West Players
Written by Garrett Omata
Directed by Heidi Helen Davis,
Cast: Doug Yasuda, Eddie Mui, Joanne Takahashi, Cindy Cheung, Jeff Dente, Shay Phillips, Daniel Getzoff.
18. Flipzoids, 1996
Set on a beach in Southern California, "Flipzoids" is a funny and highly moving story about three Filipino immigrants in America navigating through the shifting landscape of home, desire, loneliness and belonging. The play examines what it means to be an outsider, to be Filipino and/or American, to be a hybrid.
A significant development of Filipinos in Asian American theatre, FLIPZOIDS also shown a spotlight on Ma-Yi Theatre in a big way, as Ching Valdes-Aran won an Obie for her acting in the 1996 production.
Pictures taken from the LA Production (Becca Godinez and Maxwel Corpuz and Ellen D. WIlliams )
Ma-Yi Theatre, 1996
Written by Ralph Pena
Directed by Loy Arcenas
Cast: Ching Valdes-Aran, Mia Katigbak and Ken Leun
19. Carry the Tiger to the Mountain,  1998
A drama based on the seminal Asian American civil rights case of 1982 where a young Chinese American man, Vincent Chin, mistaken for being Japanese,was beaten to death by two Detroit autoworkers. When Vincent Chin's assailants are sentenced to 3 years probation and a 3 thousand dollar fine for beating a man to death, Vincent's mother, Lily Chin, becomes the face of an Asian American political movement seeking justice for her son. Using America's love of cars and the practice of tai chi as two opposites tracking the final outcome, the play explores the complex social, legal, and personal roadblocks Lily Chin faced in her fight for justice.
The case of Vincent Chin still resonates years later, even more so in the contemporary age of Black Lives Matter, Trump and Brock Peters. The term hadn't been invented yet, but white privilege certain applies here, showing the long, systematic favortism that has evolved to disenfranchise marginalized people has been at work for far long than most (white) people thing.
Photo taken from the 1999 East West production (and posted from the Cherylene Lee Memorial) .  Beulah Quo (center), Kim Montelibano (left), and Cindy Cheung (right). Richard Gallegos. The East West Players production featured a young and talented Reggie Lee (not shown) in the lead role of Vincent Chin.
Contemporary American Theater Festival
by Cherylene Lee
Cast included Beulah Quo
20. Making Tracks, 1999
A compelling look at what it means to be American, Making Tracks tells the tale of a young Asian American rock musician who journeys through six generations of his family's history to understand his family's long labor to find a voice in America.
(the show includes a scene set in a night club that was a part of the Chop Suey Circuit…that's an underappreciated part of Asian American theatre history and an underappreciated theme in the works..lineage to FLOWER DRUM SONG and many other plays)
2g Productions/Tapei Theater
book by Welly Yang and Brian Yorkey, Music by Woody Pak
Directed by Lenny Leibowitz
Cast: Cindy Cheung, Mel Duane Gionson, Timothy Huang, Thomas Kouo, Mimosa, Michael Minn, Kiki Moritsugu, Aiko Nakasone, Rodney To, Virginia Wing and Welly Yang.
Substantially revised version at Village Theater, 2002, included Thomas C. Kouo, Chil Kong, Dee Dee Lynn Magno, Herman Sebek, Michael K. Lee, Hazel Anne Raymundo, Leilani Berinobis, Kari Cartwright, Ben Gonio, Joseph Steven Yang, Jennifer Paz, Brandon Michael Kuwada, Seema Sueko, Ming Lee, Marc de la Cruz.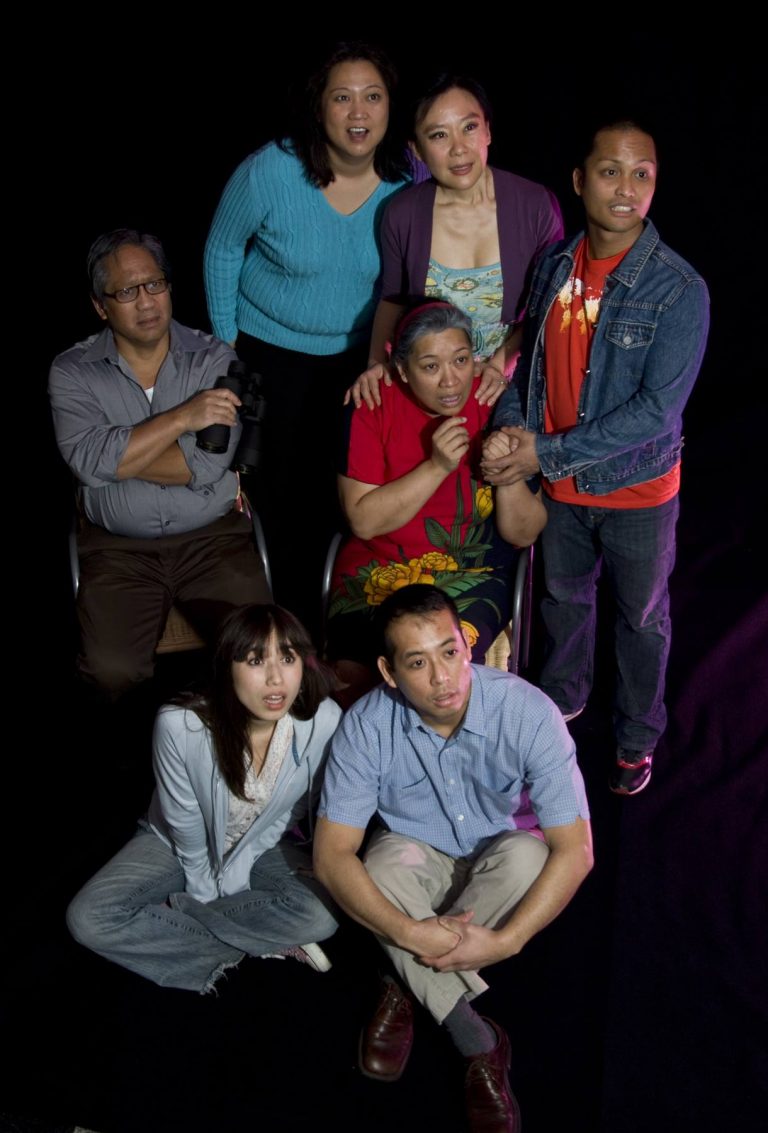 21. The Theory of Everything, 2000
A truly pan-Asian show, THE THEORY OF EVERYTHING is an extended meditation on identity and existence for the 21st Century. The show is about seven Asian Americans gathering atop a Las Vegas wedding chapel for every week for UFO watch. One particular night brings about profound change in all their lives when the impossible becomes a reality. In a city where UFOs and bingo lounges are everywhere, everything is possible!
Gomolvilas won the PEN Center USA Literary Award for Drama, the Julie Harris/Janet and Maxwell Salter Playwright Award from the Beverly Hills Theater Guild, and the International Herald Tribune/SRT Playwriting Award.
Photo is taken from the SIS Productions run of THEORY (Stan Asis, Leilani Berinobis, Kathy Hsieh, Jojo Abaoag, Nancy Calos Nakano, Miko Premo and Sam Tsubota)
East West Players
Written by Prince Gomolvilas
Directed by Tim Dang
Cast: Melody Butiu, Michelle Chon, Brandon Marc Fernandez, Kennedy Kabasares, Emily Kuroda, Ken Narasaki, and Marilyn Tokuda.
22. Sex in Seattle, 2000-2012
This is a 20 for 1 deal today, as I focus on the series SEX IN SEATTLE, a rarity in theatre, a serialized soap opera that ran for 20 episodes in the Pacific Northwest. Created by Kathy Hsieh, Moi, Serin Ngai and Amy Villarama, the series focussed on four Asian American women and their love lives and relationships, sometimes touching only lightly on race, sometimes heavily, but always with the emphasis on the relationships they had with other people and with each other. Characterization run the full gamut of personalities (no Asian stereotypes here!) from the prim but eager single to the fun loving jock to the manipulative but lonely queen bitch.
Historically, this series represents the flowering of Asian American theatres at the end of the 20th Century. No longer restricted to just six theatres, literally dozens of Asian American theatres popped up in the late 90s and early 00s, in places like Washington DC, Florida, Vancouver, BC and all points in between. Not all survived, but the dammed up urge to create was unleashed in the 90s to create new modes of work.
Among those new themes and modes was where Asian American identity was not the theme, but were still embedded in the characters' back story. Primary were stories about love and ambition; characters had healthy, non-fetishized sex lives (both pre-saging newer works such as VIETGONE).
And quite literally, this series may have saved Asian American theatre in Seattle, after the demise of the Northwest Asian American Theatre, as it anchored SIS Productions for a decade (and spun off a daughter production, SEX IN VANCOUVER, for VACT).
ETA: Far as I can tell, this is the longest serialized form of theatre ever done in the US…anybody know of anything longer?
SIS Productions
Created by Kathy Hsieh, Moi, Serin Ngai and Amy Villarama,
Writers: Serin Ngai, Kathy Hsieh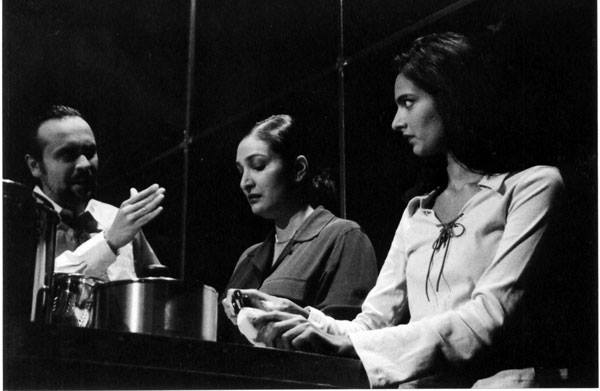 23. Queen of the Remote Control 2002
It's 1999 and the seemingly boundless days of the dot.com bubble. Shilpa Shah, a bright, sarcastic 17 year-old, longs to smash the glassy screen of her Indian family's upper middle class LA life. When her brother and his fiance arrive from Silicon Valley, the screen shatters loosing all the ugly secrets of class, color, greed, and religion her parents have guarded for years.
Expressive of the emerging South Asian voice in Asian American theatre, QUEEN has had a decent life in productions across the country, with a production in India as well.
East West Players
Written by Sujata G. Bhatt
Directed by Sujata G. Bhatt and Tim Dang
Cast: Poorna Jagannathan, Meera Simhan, Bernard White, Kal Penn, Sulekha Naidu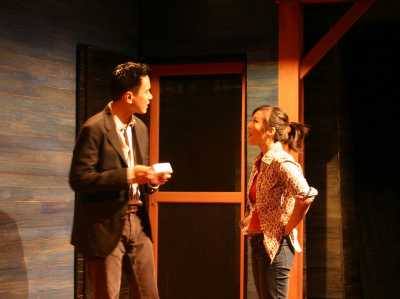 24. Cowboy v. Samurai, 2005
Travis Park is a high school English teacher and the only Korean American man living in a dusty cowboy town known as Breakneck, Wyoming. And when a gorgeous, whip-smart Asian American woman moves into town, he immediately falls for her; the only problem is that she only dates white men.
In this savagely funny and often moving comic re-telling of Edmond Rostand's CYRANO DE BERGERAC, one man must choose allegiance between his cowboy friend (a dim, handsome, Caucasian P.E. teaDireccher named Del) and his Asian Brother-with-a-Capital-B (crazed, militant Asian of Unknown Origin, Chester). He must choose between the Asian American and the American within himself – between COWBOY VS. SAMURAI – in a pursuit of a love that may only be as real as the love letters he writes for someone else.
Perhaps the ultimate expression of the AM/AF/WM "triangle", COWBOY is an exploration of the Asian male psyche. And judging by the interminable AM ramblings in social media, still fairly relevant today. What's always relevant is the sharp comedic exchanges between the various characters, and its sly sendup of the over-the-top Asian identity holding. Golamco is a an alum of Lapu The-Coyote (the 2nd oldest Asian American student theatre in the US) and has gone on to write for GRIMM and fellow Lapu alum, Randall Park.
NAATCO
Written by Michael Golamco
Directed by Lloyd Suh,
Cast: Joel de la Fuente, C. S. Lee, Hana Moon, Timothy Davis
25. Durango, 2006
The Public/Long Wharf,
Written by Julia Cho
Directed by Chay Yew.
Cast: James Saito, Jon Norman Schneider, and James Yaegashi, Ross Bickell, Jay Sullivan
26. Yellowface, 2007
The lines between truth and fiction blur with hilarious and moving results in David Henry Hwang's unreliable memoir. Asian-American playwright DHH, fresh off his Tony Award win for M. Butterfly, leads a protest against the casting of Jonathan Pryce as the Eurasian pimp in the original Broadway production of Miss Saigon, condemning the practice as "yellowface." His position soon comes back to haunt him when he mistakes a Caucasian actor, Marcus G. Dahlman, for mixed-race, and casts him in the lead Asian role of his own Broadway-bound comedy, Face Value. When DHH discovers the truth of Marcus' ethnicity, he tries to conceal his blunder to protect his reputation as an Asian-American role model, by passing the actor off as a "Siberian Jew." Meanwhile, DHH's father, Henry Y. Hwang, an immigrant who loves the American Dream and Frank Sinatra, finds himself ensnared in the same web of late-1990's anti-Chinese paranoia that also leads to the "Donorgate" scandal and the arrest of Los Alamos nuclear scientist Wen Ho Lee. As he clings to his old multicultural rhetoric, this new racist witch hunt forces DHH to confront the complex and ever-changing role that "face" plays in American life today.
A sort of companion piece to M. BUTTERFLY, YELLOWFACE stands on its own feet as an outrageous mix of the personal, the artistically ambitious, politically relevant and catty inside gossip. Much of the action in the place actually took place (at a MUCH higher rate than most will guess), with the tittering heightened with the casting of David's wife in the piece. Yet, the power of writing remains cutting and succinct (in my own production, an actor gave a reading that was the spitting image of the person she was emulating, both in vocal cadence and in body language, without ever having met the person or getting any coaching).
What's often underappreciated in YELLOW FACE is David's use of casting across age, across sex and even across race (something he'll continue to use in his future plays such as KUNG FU), which subsequent productions have sometimes not been as brave to emulate. As well, the focus on the Republican witch hunt on Chinese American donors is still quite relevant, as it's a close relative to the Islamaphobia gripping the country now. (And, of course, he has expanded the DHH-verse with his musical SOFT POWER, which also featured a Tony Award winning playwright named DHH)
Los Angeles Theatre Group/Mark Taper 2007
In Association with East West Players
Directed by Leigh Silverman
DHH – Hoon Lee HYH/others – Tzi Ma Marcus Gee – Peter Scanavino Leah/others – Julienne Hanzelka Kim Jane/Miles/others – Kathryn A. Layng Stuart/Rocco/others – Lucas Caleb Rooney The Announcer – Tony Torn
Los Angeles Theatre Group/Mark Taper
In Association with East West Players
Written by David Henry Hwang
Directed by Leigh Silverman
Cast: DHH – Hoon Lee HYH/others – Tzi Ma Marcus Gee – Peter Scanavino Leah/others – Julienne Hanzelka Kim Jane/Miles/others – Kathryn A. Layng Stuart/Rocco/others – Lucas Caleb Rooney The Announcer – Tony Torn
27. Hold These Truths, 2007ish
The beating heart, the essential soul of Asian American theatre when it started was the Japanese American experience, more specifically, the World War II concentration camps for American citizens. The encapsulated essence of immigration, identity and response to oppression of Japanese Americans defined much of the landscape of Asian American theatre, starting in the 70s.
Jeanne Sakata's one man show about Gordon Hirabayashi, one of the trio of cases that challenged the legality of the internment, is in many ways a call back to the roots of Asian American theatre, but now is more vital and relevant than ever, given the revival of white racism in the US and the world.
I've seen the show three times, now, and with different actors in the lead, but I've been moved every time, because of the power of the piece and because of the truths that are more important than ever to repeat.
Written by Jeanne Sakata
Ryan Yu
28. Merchant on Venice, 2008
Jitendra, a Hindu actor, has fled Bollywood stardom to seek fame and fortune in Hollywood. To secure backing for his "India-Indie flick with crossover appeal" he schemes to marry a rich young heiress, Pushpa Shah, and in the process endangers the life of his best friend, Devendra, by becoming entangled with Devendra's nemesis, Sharuk, a Muslim money-lender. Pushpa, is in love with Jitendra, but as per her father's will, must marry only a man who can pass a multi-media test.
Written in an iambic pentameter replete with Indian, American and Latino jargon, Merchant on Venice reflects the many different sounds of the South Asian Diaspora as well as the polyglot crackle of Los Angeles. The play contains songs and incidental music, also by Kurup, influenced by both rock-and-roll and Bollywood movie songs further highlighting the clash/mash of culture that is so evidently the "masala" of the South Asian Diaspora. Merchant explores the nature of empathy and grace as well as blame, personal responsibility and internalized and externalized religious bigotry through the dreams, hopes and biases of the various characters as they pine and connive in the Los Angeles of the new Millennium.
Silk Road Rising
Written by Shishir Kurup
Directed by Stuart Carden
Cast: Anjali Asokan, Cesar Conde, Dipika Cherala, Kamal Hans, Anil Hurkadli, Anish Jethmalani, Shishir Kurup, Julian Martinez, Marvin Quijada, Sadieh Rifai, Marc J. Rita, Prinadhi Varshney, and Tariq Vasudeva
29. Ching Chong Chinaman 2008
The Wongs are American as apple pie. Desdemona dreams of Princeton but could use some help with her calculus. Her brother Upton wants to be a World of Warcraft champion but needs more free time to train. Upton solves both their problems by bringing an indentured servant home one day, but they soon discover that "Ching Chong" has American dreams of his own! An irreverent new comedy by Lauren Yee is skewering every cliché about Asian American identity.
DHH proclaimed Lauren part of the fourth wave of Asian American theatre, and I can't say I disagree (though I'm a little fuzzy on all the waves crashing through). This show is a delightful and twisted update to the traditional Asian American identity play, perfect for the 21st Century. And the best of this show was being able to meet Lauren, who's one of the friendliest, most personable people I've ever met (and, as it turns out, someone I've corresponded with off and on for several years. Though…doing the math…it was startling how young she was when we first exchanged emails…DHH young!)
Photo from the Impact Theatre production
Impact Theatre,
Written by Lauren Yee
Directed by Desdemona Chiang,
Cast: Dennis Yen, Arthur Keng, Aidan Park, Cindy Im, and Lisa Kang
30. Edith Can Shoot Things and Hit Them, 2011
Sixteen-year-old Kenny and his little sister Edith are all but abandoned on a remote farm in Middle America. But when Kenny's friend Benji starts encroaching on their makeshift family—and Edith shoots something she really shouldn't shoot—the outside world comes barging in. Edith takes aim at growing up, staying young, falling in love and facing the consequences . . . then fires away.
I think this is a significant play, representing an emerging trend in Asian American work, where the characters' ethnicity is inherent, but are not a central theme in the play. Similar plays include Carla Ching's FAST COMPANY and Leah Nanako Winkler's KENTUCKY.
Humana Festival of New American Plays, Actors Theatre of Louisville,
Written by A. Rey Pamatmat
Directed by May Adrales
Cast Edith, a girl- Teresa Avia Lim, Kenny, her brother- Jon Norman Schneider, Benji, their friend- Cory Michael Smith

31. Vietgone, 2015
The waning days of the Vietnam War, refugees leaving their lives behind—it's the stuff of sobering news stories, right? Not always. In this brash new comedy, three young Vietnamese immigrants make their way through the bewildering landscape of 1970s America, a land filled with incomprehensible language, awkward customs, and a canvas as big as a Hollywood movie. At turns hilarious, profane, exuberant, and unexpectedly touching, Vietgone uses audacious dialogue, pop culture and an action-packed road trip to breathe life into the stories of these strangers in a strange land.
I've written extensively about VIETGONE before…and I guess I'll blather on….in a lot of ways, this play draws upon the five decades of Asian American theatre that preceded it…you can see traces of Frank Chin's defiance and determination to define the world on its own terms. You see real Asian American characters owning their sexualities (in all their wacky ways) as in Sex in Seattle. And you see the clear influences of David Hwang in the borrowing of literary devices and attitudes. All of it blended with its own sensibility, rooted in modern 21st Century cultural beats. A nice harbinger for future and emerging Asian American theatre artists to come…
Oh, and VIETGONE won the 2016 American Theater Critics Association Harold and Mimi Steinberg Award for Best New Play and was a Harold and Mimi Steinberg/American Theatre Critics Association New Play Award and the Edward M. Kennedy Prize for Drama Inspired by American History.
South Coast Repertory  Theatre
Written by Qui Nguyen
Directed by May Adrales
Cast: Raymond Lee, Maureen Sebastian, Jon Hoche, Samantha Quan, Paco Tolson
Related topic: What Is Canon for Asian American Theatre