More Asian American Plays
A companion piece to 31 Plays. Add 'em together and you might have a canon.
F.O.B. 1979
Junipero Miracle Productions and the Stanford Asian American Theatre Project
by David Henry Hwang
Directed by David Henry Hwang
Original cast: Loren Fong, Hope Nakamura and David Pating
This play marks the second surge of Asian American plays, while igniting the career of David Henry Hwang. It won the Obie for best Off Broadway play in 1980, detailing the conflict between immigrant Asian Americans and native born Asian Americans. As well, it was a conversation of mythic touchstones, weaving in tales of Gwangung, the Chinese god of warriors (mentioned by first wave author Frank Chin) and Fa Mu Lan (written about at great lengths by Maxine Hong Kingston, wayyyyy before Disney got their grubby mitts on her).
Folks might know that I have a personal connection to this show, as this also launched my career as an Asian American theatre artist, as I was lighting designer for this show (hanging lights off of broom sticks in the dorm lounge). A bit less known is that I was the founder of Junipero Miracle Productions ("It'll be a miracle if it ever gets produced"), which was a product of the 1970s, early 80s phenomena of dorm dramas at Stanford, where members of Stanford's residence halls put on entire musicals in their dorm lounges (possibly because the Stanford drama department at that time was not very good. They've since remedied this).
Final note: Junipero was the name of the Asian American theme dorm at Stanford, where the dorm produced programs centering around Asian American community, activism and culture. David and I were theme associates then, and F.O.B. was a theme activity (though a big part of my being a TA was to get housing on campus). These activities were taken with a great deal of bemusement by half of the residents (who weren't there for theme activities). Junipero's name was later changed to Okada house (and moved to the dorm house next door).
Life in the Fast Lane, 1981
Written, directed and performed by Lane Nishikawa
Asian American Theatre Company
I think this is probably one of the first, if not THE first, of all the solo shows Asian American artists have performed throughout the decades, an artistic forefather to Amy Hill, Dan Kwong,  Jude Narita and others. It is, after all, the direct answer to not being cast by blundered directors: create your show.
Lane was writing poetry (spoken word as it was being developed) in the vein of fellow poets like Janice Mirikitani, exploring the various aspects of Asian American life and began performing it at the street fair in SF's Japantown. LIFE was set up as an imaginary TV show with a host popping questions at him, and Lane performing vignettes explored themes like growing up in a black neighborhood, seeing the ghost of a 442nd soldier, and hearing a bigot talk about his daughter marrying an Asian guy. The show was a big hit. "We performed it in something like 50 different cities. We toured it through the U.S., Canada, and Europe." 
He followed LIFE with two other shows, I'm on a Mission From Buddha, Mifune and Me, and then began a long career in theatre, serving as artistic director for the Asian American Theater Company, in San Francisco, California for 10 seasons. He was co-artistic director of the Eureka Theatre and resident director at the San Francisco Shakespeare Festival. He wrote GATE OF HEAVEN, of two soldiers, (one Jewish, one from the 442nd), which was amusingly alluded to in David Henry Hwang's YELLOW FACE. 
His latest project is "Our Lost Years," a documentary made to commemorate the 75th anniversary of Executive Order 9066 and the 30th anniversary of the Civil Liberties Act of 1988, both landmarks in Japanese American history. 
The graphic is a review from the 1980s of LIFE IN THE FAST LANE
The Dance and the Railroad, 1981
By David Henry Hwang
Directed by John Lone
Set in 1867 in California, THE DANCE AND THE RAILROAD tells the story of two Chinese laborers and marks a historical episode in American history. The play consists of a series of encounters between the two men as they wait out a strike. Ma admires Lone's acting acrobatics and asks his newfound friend to teach them to him. After initially looking down upon Ma, Lone begins to teach him the ancient art of the Peking Opera. As the two men conduct their informal practice sessions, they talk more and more about their past lives in China, their visions of the future and the progress of their ongoing labor strike.
As a blend of dance choreography (heavily influenced by Peking Opera, drawing upon the background of Lone), DANCE was a critic pleasing followup to F.O.B. and drew heavily upon the talents of its cast (well, look at their names! Lone and Ma!). It also an attempt to counter the stereotype of Asians as passive and acquiescent to authority; it was based on the railroad strike by Chinese laborers, one of the largest in American history.
John Lone went on to star as THE LAST EMPORER.
Tzi Ma went on, of course, to become Asian America's dad—here you can see him in his youth.
(photo from the Public Theatre remount, which quickly followed the New Federal premiere).
12-1-A, 1982
East West Players
by Wakako Yamauchi
Directed by Sam Shimono
Cast Benjamin Lum, Haunani Minn, Nabu McCarthy, James Saito, Ellen Wakamatsu, Dian Kobayashi, Doug Yasuda
Taken from the name of her Poston, AZ residence in camp, 12-1-A is the other definitive Japanese American incarceration play (along with Momoko Iko's GOLD WATCH). The play follows several Japanese American families at Poston as their characters grapple with the loyalty questionnaire , military service, and possible resettlement . The title of the play refers to the camp address of the Tanaka family, block 12, barracks 1, unit A. Yamauchi wrote the play while the Rockefeller Playwright in Residence at the Mark Taper Forum in Los Angeles
Photo taken from the 1995 Northwest Asian American Theatre production.
The Kamiya Family Trilogy
The Taste of Kona Coffee
Manoa Valley
The Life of the Land
Hawai'i-born playwright Edward Sakamoto has created a substantial body of work that accurately and lovingly depicts the experiences of Japanese Americans in Hawai'i. Yet, his work has seen few productions outside of East West in LA and Pan Asian in New York.
This specific trilogy of plays is perhaps his most memorable, as it traces the lives of four generations of the Kamiya family in the half-century between 1929 and 1980, from their beginnings as issei farmers in the coffee fields of Kona on the Big Island to their sansei and yonsei descendants, pondering the price of material success and assimilation. Much of the dialogue is in pidgin, reflecting the unique flavor of life in the islands.
In The Taste of Kona Coffee (Chronologicaly the first, but the last to be written), two nisei brothers, Aki and Tosh, fight to free themselves from the prison of old-world traditions and poverty only to find themselves bound by the constraints of neocolonialism. In Manoa Valley, set some thirty years later, Tosh, now a successful building contractor in Honolulu, must reconcile his image of the future with that of his son, Spencer, who dreams of a life in mainland America. The third play, The Life of the Land, is set in 1980. Spencer has achieved his goals but at the cost of alienating himself from his family and his culture.
The Taste of Kona Coffee 1993
Kumu Kahua Theater
Directed by James Nakamoto
Cast: Karen Yamamoto Hackler, Dann Seki, Devon M. T. Nekoba, Marcus R. Oshiro, Michael W. Lee, Michelle Sekine, Amy N. Nishihara
Manoa Valley, 1982
UHawaii Manoa Kennedy Theatre
Directed by Glenn Cannon
Cast: Stan Egi, Darryl Tsutsui, Kati Kuroda, Cynthia See, Suzanne Park, Clyde Yasuhara, Alison Uyeda, Gary N. Nomura, Emily Dorsett, Mitchell Young
Life of the Land, 1985  (early version presented by East West in 1981)
Kumu Kahua Theatre at Kawaiaha'o Hall, Mid-Pacific Institute
Directed by Dando Kluever
Cast: Suzanne Park, Kat Yashiki, Rodney Chang, Gary Nomuta, Leghton Liu, Ben H. Tamashito, John Kamada, Gloria Tamashito, Dennis Chun, Victoria N. Kneubuhl
Stop Kiss, 1998
The Public
by Diana Son
Directed by Jo Bonney
Cast: Jessica Hecht, Sandra Oh, Kevin Carroll, Rick Homes, Saundra McClain, Saul Stein
The play was nominated for several awards, including the Outer Critics Circle Award for out- standing off-Broadway production and a Drama League Award for dis- tinguished production, and won the 1999 Obie Award, the 1999 GLAAD (Gay and Lesbian Alliance against Defamation) "Media Award for Outstanding New York Theatre Production on Broadway or Off-Broadway," and the New York Times "Best of 1999."
It was extended three times at the Public, the most successful show under George Wolfe's tenure and has played in numerous places across the country.
Even two decades after its debut, STOP KISS sill resonates both with its love story and its very human exploration of homophobia (after all, the religious reactionaries haven't let up in their hatred). And it launched the careers of both Oh (who is indeed very honored) and Diana Son, who pioneered as one of the first Asian American show runners in television.
Dogeaters, 1998
La Jolla Playhouse
by Jessica Hagedorn
Directed by Michael Greif
Melody Butiu, Ricardo Chavira, Christopher Donahue, Seth Gilliam, Natalie Griffith, Jojo Gonzalez, Alberto Isaac, Emily Kuroda, Tess Lina, Alec Mapa, John-Andrew Morrison, Sandra Oh, Bernard White, Ching Valdes-Aran, Lori Yeghiayan.
A classic Asian American novel, DOGEATERS was one of the first Filipino American works for the stage produced by major regional stages in America. As well, it features many prominent Asian American actors.
The Sisters Matsumoto, 1999
By Philip Kan Gotanda
Seattle Rep/Asian American Theatre Company/San Jose Rep
Directed by Sharon Ott
Cast:
Kim Miyori
, Lisa Li, Michi Barall, Nelson Mashita,
Stan Egi
, Ryun Yu and Will Marchetti
With Sisters Matsumoto, Philip Kan Gotanda updated Chekhov's Three Sisters and drew on his mother's family, which also hailed from the Stockton, California area and which also included three sisters, In addition to illuminating the continuing impact of the forced removal and incarceration on the postwar lives of Japanese Americans, the play touches on conflict in camp between those who advocated collaboration and those who protested, on the range of economic perils fostered by removal, and on the impact of the Nisei soldiers. It is one of the few that touches upon the world when Japanese Americans returned from the camps to so-called normal life.
"Sisters Matsumoto takes place near Stockton, California, in late 1945, when the three Matsumoto sisters return to the family farm after their wartime incarceration. Their father had been a successful farmer and community leader before the war, and the girls had enjoyed relatively privileged lives. However, the war dramatically changed their fortunes: they had been forced to sell their luxurious home in the run up to exclusion, their father had died while incarcerated at Rohwer , and the farm they returned to had been neglected by its caretaker and vandalized. A surprise development further jeopardizes their future. The sisters and their significant others—Grace, the eldest and most attached to the farm, and her Kibei intellectual husband Hideo; Chiz, fun-loving middle child with a baby and two boys staying with her sister in LA, and her boisterous, Hawai'i-born physician husband Bola; and reflective Rose, the youngest, and her shy suitor Henry Sakai—try to assess the situation to figure out what paths to take in the postwar world. "
Picture from the Seattle Rep production.
Year Zero, 2009
Victory Garden Theatre
Written by Michael Golamco
Directed by Andrea J. Dymond
Cast: Joyce Lin, Jennifer Shin, Tim Chiou, Allan Aquino
We jump into the 21st Century for our next play, and the first major play to deal with the aftermath of Cambodia and the Burning Fields. Tellingly, the story is not directly about the Khmer Rouge, but is at a generation's remove, and dives into a group where the model minority myth does not apply. The choices are stark and real, and failure and poverty are very real consequences.
Vuthy Vichea is sixteen years old, Cambodian American. He loves hip hop and Dungeons and Dragons. He has thick-ass glasses. He is a weird kid in a place where weirdness can be fatal: Long Beach, California. Since his best friend moved and his mother died, the only person he can talk to is a human skull he keeps hidden in a cookie jar. Year Zero is a comedic drama about young Cambodian Americans – about reincarnation, reinvention, and ultimately redemption.
The Language Archive , 2010
South Coast Repertory
by Julia Cho
Directed by Mark Brokaw
Cast Leo Marks, Betsy Brandt, Laura Heisler, Tony Amendola and Linda Gehringer
This, like Son's STOP KISS, is probably Cho's most produced work, for obvious reasons. The nuances and subtext are widely applicable across groups and have been eagerly embraced by theatres across the country. East West produced a version in 2011 with an Asian American cast that fully brought these complexities to the surface.
The comedy "tells the story of George, a brilliant linguist who knows how to talk to everyone except his wife, Mary, who is about to leave him, and his assistant, Emma, who has a not-so-secret crush on him. Meanwhile, at work, he's in danger of losing his chance to record the dying Elloway language. Its last two speakers — an elderly married couple — are in the midst of a fight, and they refuse to speak their native tongue until they resolve the argument.
The Language Archive with Leo Marks and Betsy Brandt Photo courtesy of South Coast Repertory
She Kills Monsters, 2011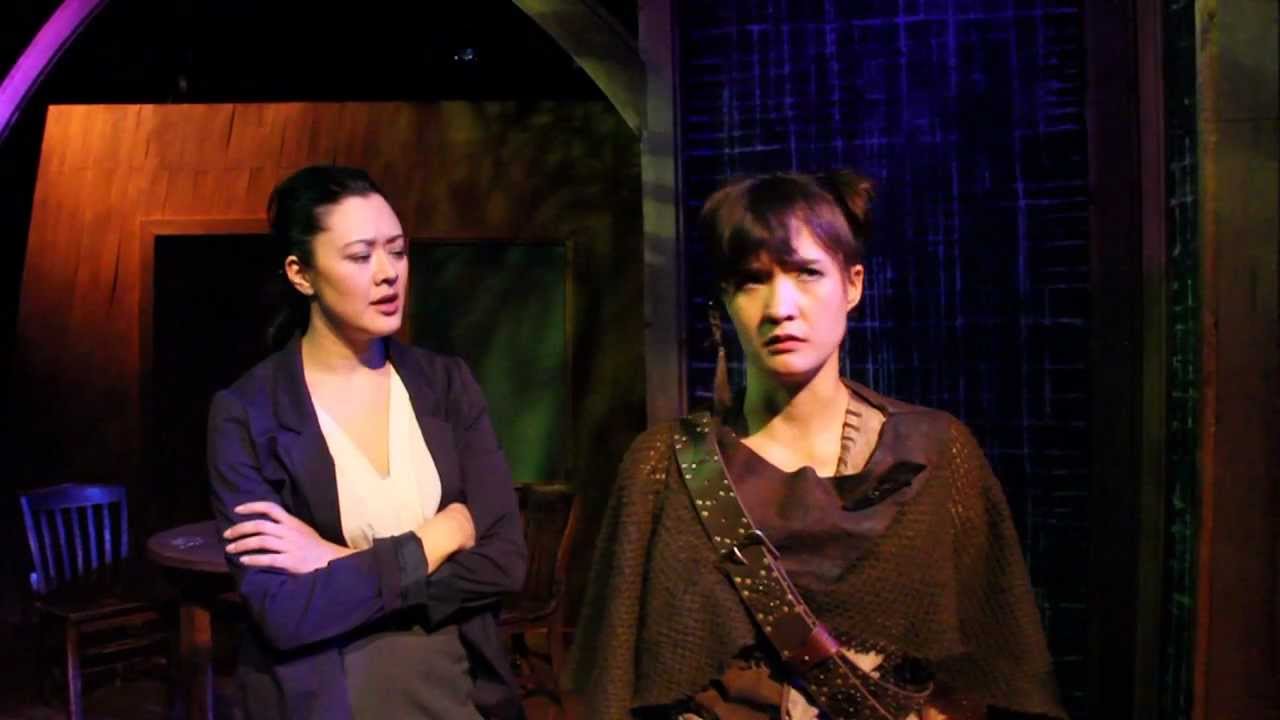 Flea Theatre
By Qui Nguyen
Satomi Blair, Allison Buck, Jack Corcoran, Edgar Eguia, Raul Sigmund Julia, Bruce A. Lemon, Megha Nabe, Margaret Odette, Brett Ashley Robinson, Nicky Schmidlein.
It's no secret that this play, along with Cho's LANGUAGE ARCHIVE and Son's STOP KISS are among the most produced plays by Asian American playwrights (though it's the expurgated Young Adventurers version that does it for Qui….the original version is REALLY not safe for school, work or any other orthodox setting). The plays are written so that they can be cast with white people and often are—that's why SHE KILLS MONSTERS is among the top 10 plays produced for high schoolers (and spawned a third version designed for virtual production). And indeed, these plays are full of heart that resonates with any one.
But scratch the surface, and you'll find resonances and deeper subtext that show up best when cast with Asian American characters; the social awkwardness, the desire to blend in and so forth, are understood best when you see a cast reflecting the authors' background. SHE KILLS is not an unflawed play; there's a touch of frat boy attitude and ableism that might grate a bit, but the period it's set in (the 1990s) quite well covers it. And it shows the artificial barriers in casting that prevents a wider acceptance of Asian American playwrights into the wider theatre world.
(photo from the Flea production)
Caught, 2014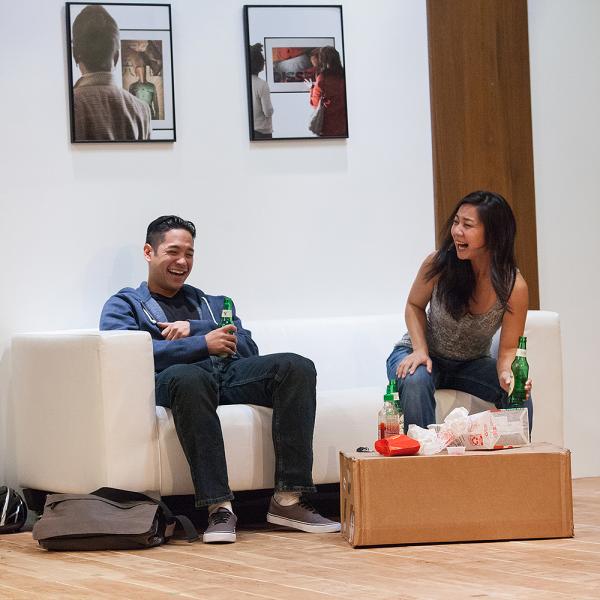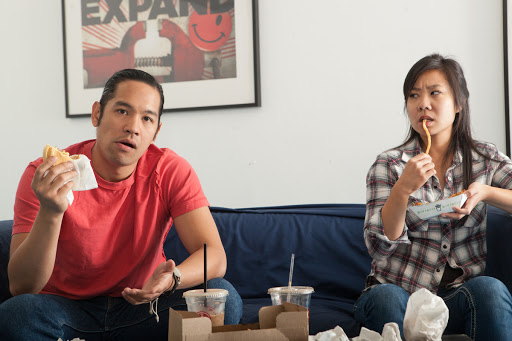 Interact Theatre Company
Christopher Chen
Cast:
Bi Jean Ngo
,
Justin Jain
, Ames Adamson, Christie Parker and Jessica DalCanton
Mind fracking and fourth wall busting, CAUGHT is a delight for the mainstream theatre audience (i.e., very comfortable upper class white patrons) while leaving some seeds for thought. Best seen without spoilers, but if you've already know what it's about, it's recommended to see it in the round, if only to see the faces of fellow audience members as the play goes on.
I had the extreme privilege of catching this show BEFORE it opened; as a part of the
Consortium of Asian American Theaters & Artists (CAATA)
's National Asian American Theatre Conference and Festival (ConFest) held in Philadelphia in 2014, I was among a number of folks from across the country able to see a late stage rehearsal. W
Justin Jain and Bi Jean Ngo in InterAct's CAUGHT (Photo credit: Kate Raines/Plate 3 Photography)
Hannah and the Dread Gazebo, 2017
Jiehae Park
Oregon Shakespeare Festival
Cindy Im, Sean Jones, Paul Juhn,
Amy Villarama
,
Eunice Hong
,
Jessica Ko 
An under-rated play by an under-rated author, HANNAH is a touching, yet very funny play of the various pressures the 21st Century Asian American family goes through. It should not be remembered just for a name bobble that destroyed a theatre service organization, but for being a great theatre piece on its own that has several great parts for Asian American actors.
Hannah is two weeks away from becoming a board-certified neurologist when she receives a strange package from her grandmother, who may—or may not—have just ended her life in a most flamboyant fashion. The mystery leads Hannah and her family on a surreal, funny, heartbreaking adventure back to their roots in South and North Korea and the forbidden Demilitarized Zone that divides them. This startling new comedy—with guest appearances by the ghost of Kim Jong-Il, subway mystics and a talking tiger—twists together creation myths and family histories to explore what it means to walk the edge between .
picture from the Oregon Shakespeare Festival production
God Said This, 2018
by Leah Nanako Winkler
Directed by Morgan Gould
Humana Festival
Cast:
Ako
, Jay Patterson, Emma Kikue, Satomi Blair, Tom Coiner
Using some of the same characters as KENTUCKY, GOD SAID THIS is an examination of a family under stress, dealing with the pressures cancer treatment puts on a family. A few years older than when last we saw them, the family still deals with their various forms of dysfunction and function, while finding a bit of wisdom along the way.
A little sweetness and a little melancholy makes for a fine old time at the theatre, as one of the few plays in the Asian American theatre canon to focus on multiracial Asians.
(Jay Patterson, Satomi Blair, Emma Kikue, Ako from the Humana production)
Soft Power 2018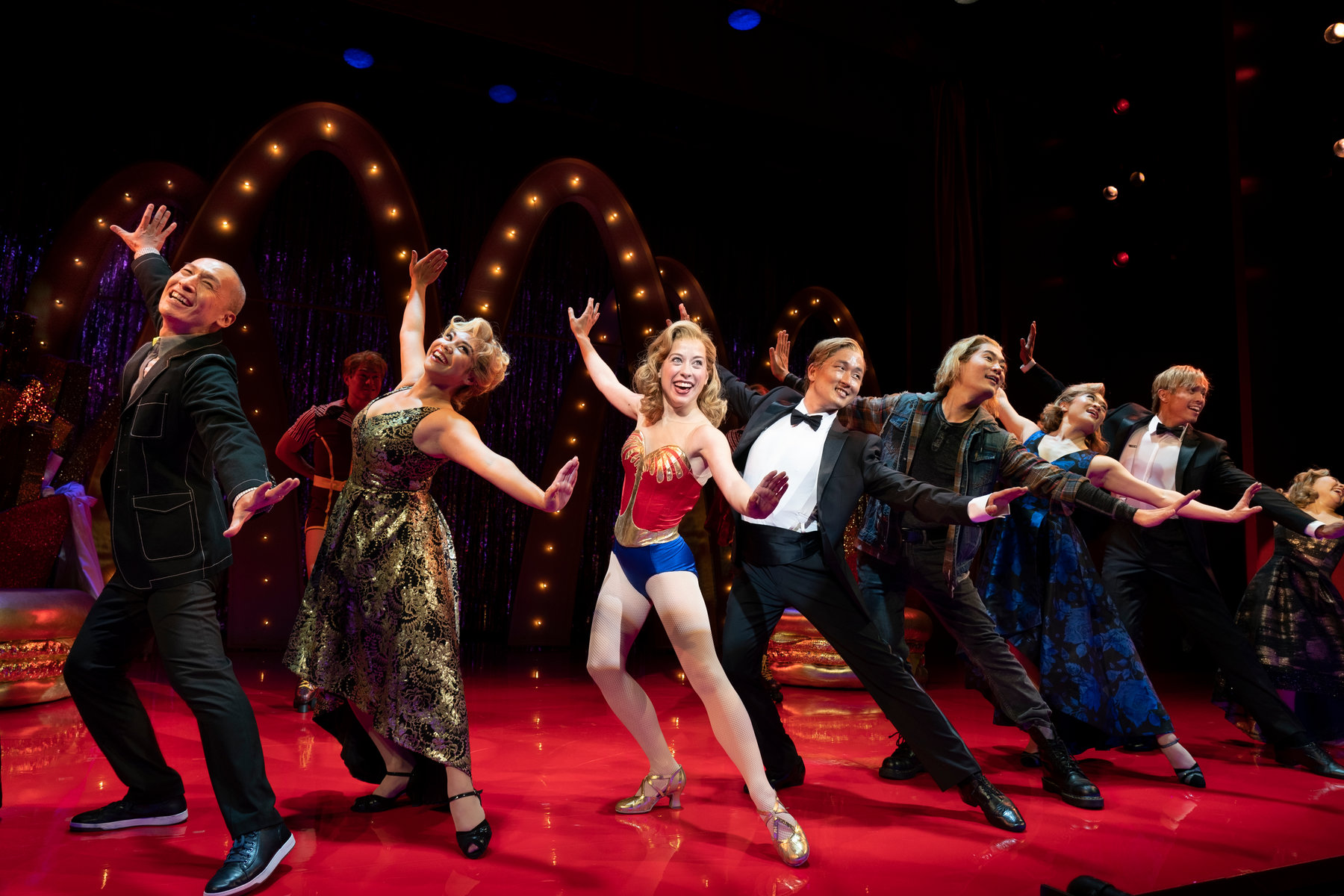 Center Theatre Group
Book and lyrics by David Henry Hwang
Music and additional lyrics by Jeanine Tesori
Directed by Leigh Silverman
Billy Bustamante, Kara Guy,
Jon Hoche
, Kendyl Ito,
Francis Jue
,
Austin Ku
,
Raymond J. Lee
,
Alyse Alan Louis
,
Jaygee Macapugay
, Daniel May, Paul Heesang Miller,
Kristen Faith Oei
, Maria-Christina Oliveras, Geena Quintos, Conrad Ricamora, Trevor Salter, Emily Stillings
A finalist for the Pulitzer Prize, SOFT POWER is an inversion and deconstruction (a favorite tactic of David's) of THE KING AND I, featuring a tap dancing Hilary Clinton instead of the King of Siam. As well it's an addition to the growing DHH-verse, featuring a version of the playwright as a character, whose violent assault strikes a little more closely to home these days. (We've already had a crossover of the DHH-verse with the Qui-verse. All we need now is the
Lauren Yee
-verse and we could have an Infinite Crisis of Infinite Asian American Playwrights).
SOFT POWER is a musical within a play, stuffed to the brim with clever theatrical devices (a particular favorite bit is the faux critics panel that starts off Act II, which is both reminiscent of MEET VELMA STARK and a sendup of academics who discuss pieces authored by non-white artists). It might be a bit too much intellectual fair for the typical Broadway tourist, but it's a weighty piece of work that's well worth including in the Asian American theatre canon.
House of Joy, 2019
California Shakespeare
Directed by
Megan Sandberg-Zakian
Rinabeth Apostol
, Emma Van Lare,
Sango Tajima
, Lupica Shah, Rotima Agbabkiaka,
Nandita Shenoy
, Raji Ahsan
This deconstruction of a classic trope (escape from a harem) is a fun addition to the canon. It's a fun, frothy pulp adventure (always a plus for me) that centers a South Asian experience and history, while at the the same time plausibly introduces multicultural elements (East Asian and African) and includes, almost offhandedly, queer protagonists. There are a few ovewrought elements, but this is a totally fun romp that more theaters should take a look at.
(OK, OK, there's some deeper work about how systems of oppression are maintained by the oppressed and also allow for isolated pockets for some to thrive, but it's so easily delivered via the strong, plot-based storytelling).
Poor Yella Rednecks, 2019
Cast: 
Eugene Young, Samantha Quan, Paco Tolson, Tim Chiou and Maureen Sebastian.
The sequel to VIETGONE, POOR YELLA REDNECKS delves into a little seen part of Asian American history, as we see the lives of first generation immigrants during the 1980s. It's also another visit to the Qui-verse, as we explore the lives of his parents and grandma, with the playwright himself appearing as both his adult self and as a child (via puppetry).
As a sequel, REDNECKS maintains the comic verve and high octane energy of the original. What it loses in freshness and originality as a sequel, it more than makes up for it with a nuanced and complex exploration of its women characters (who get a far more in depth look than in the first show). The VIETGONE series promises to be a landmark set of plays, a sort of a saga that chronicles the development of a group through time as they adapt to America.
But don't worry; there's still a kickass fight scene to see. 
Photos from
South Coast Repertory
's production.
Cambodian Rock Band, 2018
by Lauren Yee
South Coast Repertory Theatre
Cast:
Daisuke Tsuji
,
Joseph Ngo
,
JANE LUI
, Raymond Lee,
Brooke Ishibashi
, Abraham Kim
This short series comes to a close with probably the most obvious candidate for inclusion in a canon for Asian American theatre. It is a piece that is pointedly aimed at a second generation Cambodian American, yet it resonates fiercely with all Asian Americans and many others, as it focusses on a father/daughter relationship. On the surface, there so many elements that have been stereotyped by the wider community, but the play takes us below the surface and shows the pain and the sheer savage will to survive that are inherently part of the story of the 2 million who died in the Cambodian genocide. And, too, it showcases the music that was almost lost in that atrocity (and showing as well, the eternal metaphor of rock and roll as rebellion and life).
See this show when it comes to your area. No if ands or buts.