02aug(aug 2)7:30 pm11(aug 11)6:00 pmWe, The Invisibles, by Susan Soon He Stanton (Kaneohe, HI)Event Type :Fully stagedEvent Type 2:Full run
Event Details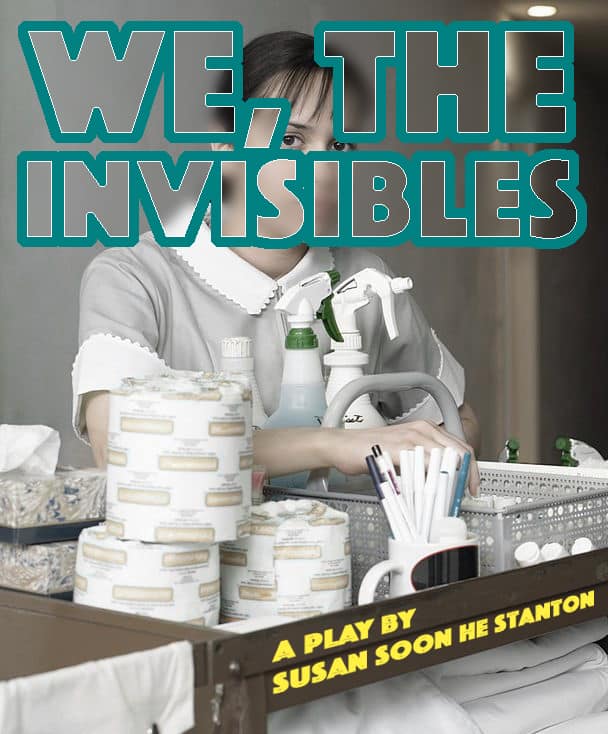 Susan is a playwright working a survival job at a luxury hotel. Stirred by a controversial case in which a West African maid's accusation against a powerful man is dismissed, she starts interviewing her fellow employees who have come to America from all over the world. She feels compelled to give voice to other hotel workers' rarely heard stories—but as her investigation deepens, this documentary project becomes an unexpectedly personal journey.
Funny, poignant, and brutally honest, "we, the invisibles" explores the complicated relationship between the movers and shakers and the people who change their sheets.
Acclaim for the Humana Festival Production
"… manages to really convey one of the most important concepts in social justice and the #MeToo movement. It shows us the emotional cost of living with constant unaddressed micro-aggressions is real — and devastating." – Insider Louisville
"…Incredible – painful, funny, and beautifully forthright. The blend between documentary and theatrical performance is mesmerizing and the wide variety of stories and experiences that are contained in a single play is the stuff of brilliance… It continues to resonate with me everyday, especially in discussions of immigration and the #MeToo movement." – Gina Musto
"…Blisteringly powerful. This is a play about how and why people emigrate to America; this is a play about how those in power use and abuse those they feel are invisible and discardable; this is a play about a playwright willing to put herself front and center alongside her friends, her fellow victims, and her insecurities. Highly recommend." – Cassandra Rose
Winner, Leah Ryan FEWW Prize, Leah Ryan's Fund for Emerging Women Writers, 2017
Selected for The List by The Kilroys, 2017, an annual compendium of excellent un- and under-produced plays by women, trans, and non-binary playwrights. 
Finalist, National Playwrights Conf. Finalist, Eugene O'Neill Theater Center, 2017
Time

2 (Friday) 7:30 pm - 11 (Sunday) 6:00 pm HDT
Location

HPU Windward Campus

45-045 Kamehameha Hwy